Basketball Wives star Cece Gutierrez took to social media to set the record straight about calling OG "ugly" and a looking like a "man."
Read on to see what Cece Gutierrez told her fans on social media about the editing of Basketball Wives making her look like the manipulative villain…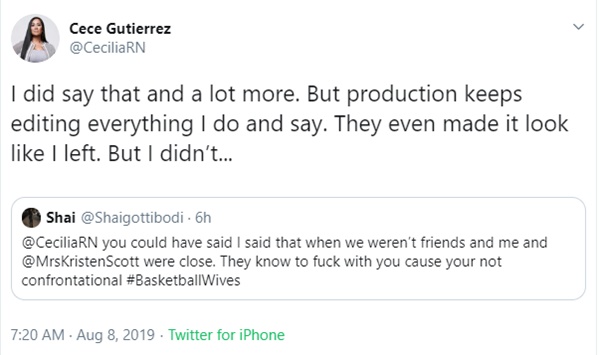 CelebNReality247.com reports that Basketball Wives star Cece Gutierrez has decided to set the record straight after fans started asking if she called OG "ugly" and a looking like a "man."
Despite the fact that Kristen Scott having receipts that CeCe called OG "ugly" and a looking like a "man" she is putting it all back on Kristen Scott to make her look messy.
When a fan asked Cece Gutierrez about her comments about OG, she admitted saying it on Twitter saying:
I did say that and a lot more. But production keeps editing everything I do and say. They even made it look like I left. But I didn't…
She went on to say:
I told @iHeartOG after the nearly 2-year-old texts were pulled up out of the archives. I didn't know her yet. I was consoling my "surface" FRIEND that was like a sister to me who I thought was getting beat to a pulp by her at that party. Yah it was sis ??because I was there! The WHOLE night…dancing right next to you ?????.
Then Basketball Wives star said:
I just crack up about how everybody jumps all over me and @iHeartOG for every little thing ALL THE TIME but no one ever said anything about what "Fubu" did to OG. Get outta' here!
Gutierrez continued:
It kills me how it's the women who were taken care of by athletes that talk shit about what @iHeartOG wears & buys for HERSELF…with her OWN hardworking money that she earned ALL on her own. And the bish is successful. Just sayin'
When the soon to be wife of Byron Scott was asked about attending the BBW reunion, she replied:
What reunion?
CeCe reposted OG's Tweet revealing that they are cool.
OG's post reads:
THE REALiTY is I had ALREADY FORGAVE @CeciliaRN FOR THOSE OLD ASS TEXT MESSAGES. BEFORE SHE EVEN WALKED iN

HOWEVER WHEN YOU'RE ESTABLiSHiNG A NEW FRiENDSHiP & A issues ARiSES..iT'S IMPORTANT TO HAVE A ONE ON ONE WiTHOUT THE PEANUT GALLERY

CONVERSATiONS WiLL BE HAD

#iHEARTOG ?