Charmaine Checks Jessica and Her Friends On IG!!!
"Black Ink Crew Chicago" fans had a lot to say about the latest episode when Miss Kitty showed up at Glenda's funeral.
If you watched, then you know that Miss Kitty did Glenda's makeup for the funeral. During a segment, when Charmaine was telling everyone that she was so thankful for the support from Kitty and how she could work at 2nd City Ink if she needs a job, fans flipped. Read on since Charmaine Checks Jessica and Her Friends…
CelebNreality247.com has the latest from "Black Ink Chicago" when Charmaine brought up the Ryan Henry Miss Kitty rumors.
Miss Kitty listed that the rumor was a failed attempt at a come up, but when Charmaine Walker Bey said that she'd hire Kitty at the shop, during the outtakes Jessica wasn't happy about the job offer.
Jessica made it clear that she and Charmaine will have to have a deep conversation about Kitty working at the shop since she was NOT pleased about the job offer to Kitty. (above)
Let's not forget that Ryan Henry and Kitty were hanging weeks prior on the show. And he says nothing happened, but there is something between these two. And they look great together. Ryan is a step up. He's hot.
To make matters worse, one of Jessica's friends called Charmaine out for this on social media, Charmaine went off.
"Black Ink Crew Chicago" star Charmaine has a great friendship with Miss Kitty. The women hang out plenty and have been there for each other while grieving their mothers.
So we get why Charmaine would be open to Kitty working at 2nd City Ink after Kitty was fired from Black Ink New York.
In fact, Charmaine sets the record straight the Jessica is only at 2nd City Ink for TV purposes and THAT IS ALL!
Then Neek Bey's wife, who was hormonal at the funeral because she was pregnant went off on IG stating the following: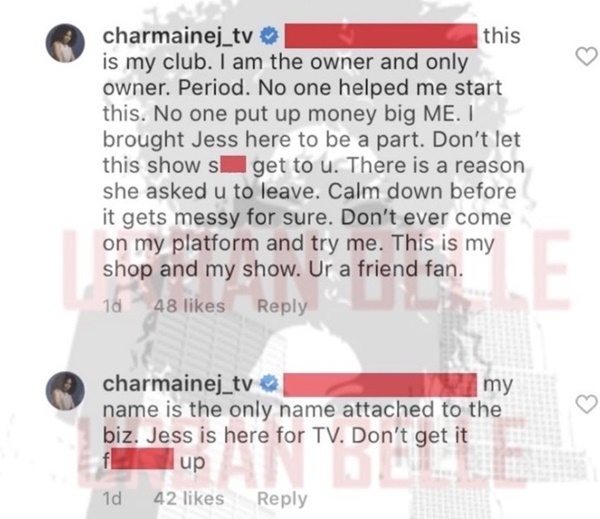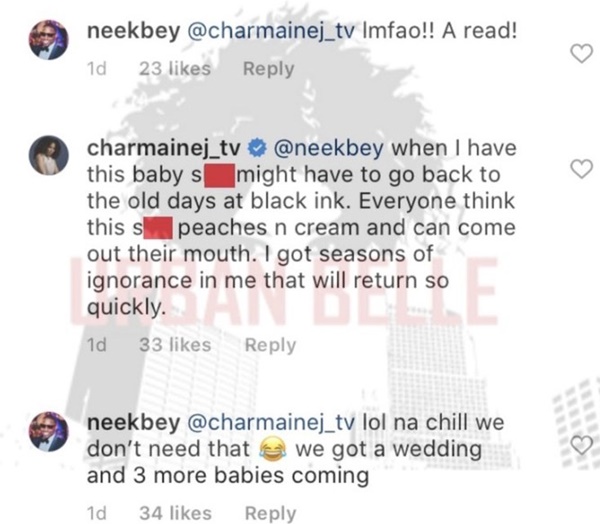 Comment photos via UB