Joseline Hernandez posted a photo that has had fans raising their eyebrows since the Puerto Rican Princess looks sweaty and spaced out.
Fans quickly started assuming that the former "Love and Hip Hop: Atlanta" star looked like she might have fallen off the wagon. Read on to see why Fans Accuse Joseline Hernandez of Being Drugged Out…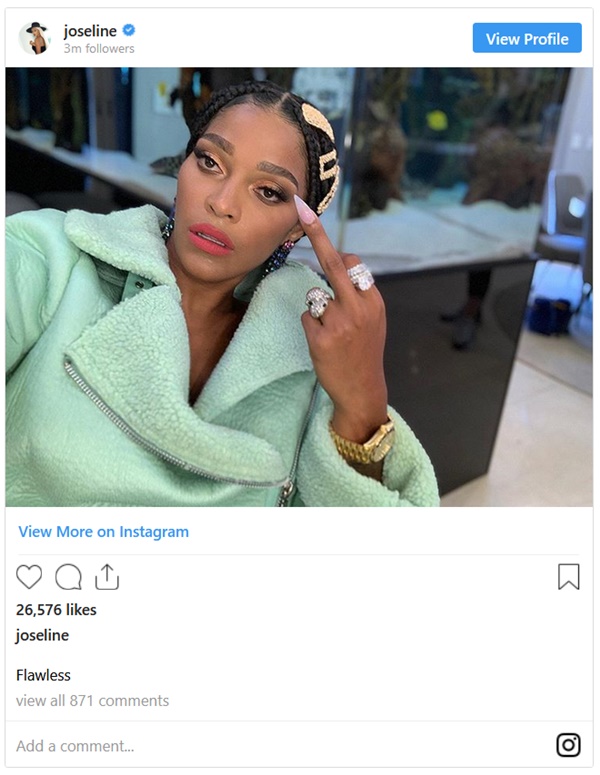 CelebNReality247.com reports that fans of Joseline Hernandez became distracted by her dazed looks when she posted a photo and captioned it "flawless."
In the photo Joseline Hernandez is flicking off the camera while draped in a green Sherpa coat. Hernandez seemingly flaunted her gold watch and diamonds rings in her selfie while clearly out and about at a store.
Despite her makeup being done, the reality star's face seemed more clammy than usual as she stared into the camera like a deer in headlights.
Joseline, who is filming Marriage Boot Camp for WeTV these days, wrote in the caption:
Flawless!
The only problem is that she looked quite vacant with her expression which caused a slew of mixed reactions:
Girl you look high as hell ?. You look half dead. Girl why did u post this pic ?????

Delete this sis and pls get some help, you look like you're back on drugs.

To y'all everything she post she's high on coke. Guess a powder head would know another one smh ?.

So im guessing everyone that commented that she high is living a sober life huh? no weed no pills no liquor? let he without sin cast the first stone.
However, Hernandez ignored fans' drug abuse speculations.
This is NOT the first time Joseline has been accused of falling off the wagon.
A few years ago, the former "LHHATL" star said she eliminated drugs out of her life once she became pregnant with her now-2-year-old daughter Bonnie Bella.
She told the Breakfast Club in 2017:
When I was pregnant for 37 weeks, that's a place of stillness; no drugs, no alcohol, no nothing!
We hope she is all good. She posted this photo of her new man with Bonnie Bella just days before Stevie was granted temorary sole custody of their daughter.