#BlackInkCrew Chicago continues to prove to be the better of the two series. Last night, Van lost it when Charmaine pulled a prank during the launch of Loyal Ink with a male stripper wearing a 9Mag T-shirt.
When he went to rip it off and unbutton his pants Van LOST IT and went into an enraged tackle mode taking out the stripper, throwing him out of Loyal Ink.
That is when Charmaine revealed it was a prank and brought in a female stripper. Read on to see how Van's jealous stripper tackle ignites Twitter reaction…
CelebNReality247.com has the latest from #BlackInkCrew Chicago with Van going buck wild at the grand opening party of Loyal Ink.
Here is how things looked before Van Johnson lost it, Charmaine and Lily squashed their beef and things were looking good until the strippers walked in:
Moments later, the Van Stripper Tackle took place and the Troll Patrol has been weighing in…
The TROLL PATROL is sounding off about Van:
@Trismegistus10 writes:
Van may be the only real man on the show. He checked his woman and let her know his standards. Phor gets punched in the face every episode by his woman. Ryan is with a woman that doesn't really seem to like him. Don is with a woman he's not attracted to. #blackinkchi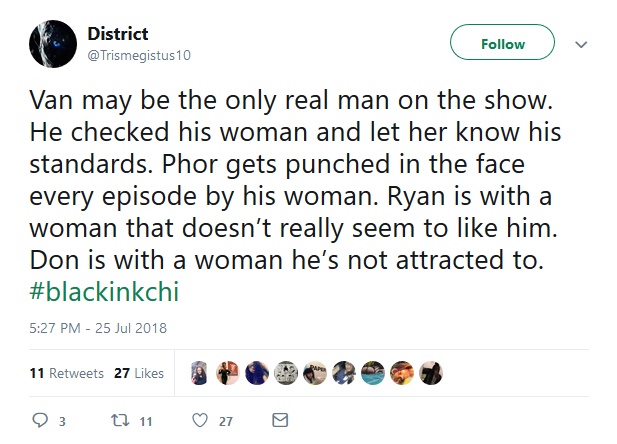 I'm tied of van actin like he's 3 #blackinkcrew pic.twitter.com/dfsXQhkziI

— jaylan (@odjay16) July 19, 2018
"Only thing holding me back from this opportunity is myself"
??And your girlfriend!! #BlackInkCHI #blackinkcrew #blackinkcrew pic.twitter.com/On2I9fw5H7

— E (@YO_EON) July 26, 2018
When Van tackled the stripper pic.twitter.com/tdxQAfIbIV

— ?Juke (@jukeMOBS) July 26, 2018
Me after taking that hit from Van…#BlackInk #BlackInkChi #BlackInkCrew pic.twitter.com/7ittVWIy3B

— Shonnia Burton (@shonnia21) July 26, 2018
Why I feel like van got a lil peen #BlackInkCHI pic.twitter.com/GeZlUxJ8eN

— SinCiti Paul-Visage (@sincitti) July 26, 2018