On the latest episode of Black Ink Chicago, things came to a head when Charmaine found herself between Neek and Lily Barrios fighting in the club.
The day before Lily Barrios and Charmaine Johnise finally had found a common ground to squash their differences and try and work together. Lily told Charmaine that she didn't want to work in the new 9Mag because there were too many rules. She asked if she could got back and work in old 9Mag, so the two women worked it out. That is until Neek came to Miami and Lily couldn't help but to confront him for slandering her on social media. Read on…
CelebNReality247.com reports that Petty @ss Lily couldn't help herself and restraing from being a straight up pain in the butt.
Nope, she just had to go and start a problem for Charmaine who was already trying to tell Neek things would be fine.
Instead, Lily proved that things would NOT be fine and that he did NOT want his soon to be wife around negativity or nagative people like Lily.
Lily and Neek got into and Charmaine was trying to break it up. Things ended with Char and Neek leaving and checking into a hotel so she could clear her mind.
Meanwhile, Lily and Van spoke and came to an agreement that she would be able to comeback to old 9Mag as long as she can respect everyone and move forward in a positive manor.
The next night, Charmaine and Neek showed up to the house to tell Ryan, Van, Don, Phor and Lily that she can no longer work at 9Mag. She decided that she is going to focus on herself and what is positive in her life.
Well Black Ink Chicago fans are not taking kind to the news and have been lashing out a Lily Barrios for Charmaine resigntion from 9Mag.
Take a look:
#BlackInkCHI ?????Lilly just said that Ryan left the people at the old shop because they didn't have anything to offer and now she just begged for her old spot back pic.twitter.com/bsyPhgrOe3

— shicola (@sexxiladdi912) June 26, 2019
How many chances Lily gone get #BlackInkCHI pic.twitter.com/fiA6ifRBGv

— MyRealitytv (@RealitytvMy) June 26, 2019
Sick of lily as she should have been gone when she drinks you get another person all the time pic.twitter.com/CDlX3b9Pyz

— Tina (@Tina29995195) June 26, 2019
Van a hoe ass nigga for letting Lily pop off on Charmaine! He couldn't be a homeboy of mine!! #BlackInkCHI pic.twitter.com/IXA4IKhc2g

— ShayMagik (@Shay12896047) June 26, 2019
Only one tweet was happy Charmaine finally got some sense to leave:
It took her a while but Charmaine is finally growing up. Good for her. #blackinkchi pic.twitter.com/VESUlqVrhD

— Chi Town (@mychicitylife) June 26, 2019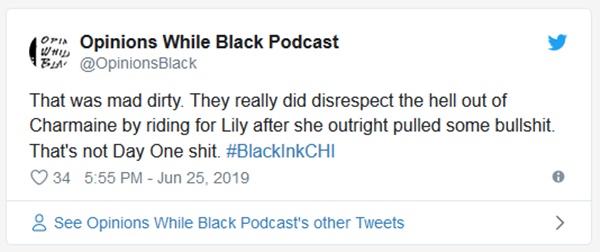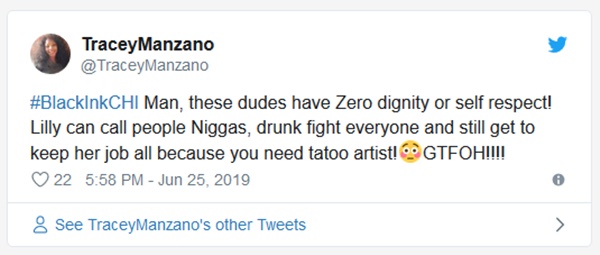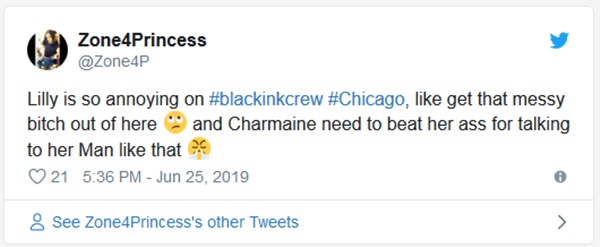 Another pointed out that Charmaine did nothing at 9Mag except drink, twerk and complain:
Until Charmaine tell Jr to stop using the n-word too like she do Lily I want her to using that as an excuse. #blackinkchi pic.twitter.com/qedT3JD6VR

— Genean ?? (@BossiiNina) June 26, 2019
Charmaine you don't have shit to offer but twerking and being musty #BlackInkCHI pic.twitter.com/odaOhRTaHY

— Mad Man Jack (@ShampooDouglass) June 26, 2019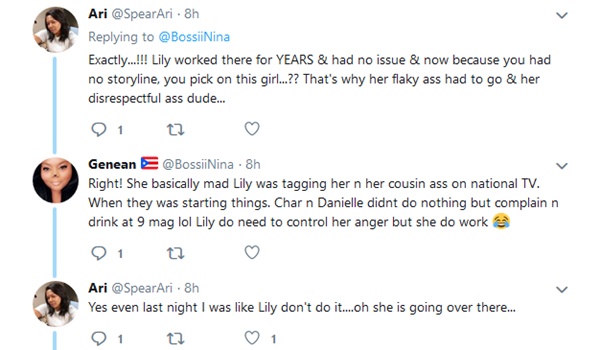 At the end of the day, it's best that Charmaine leaves, she doesn't do anything at the shop. She NEEDS to focus on the radio gig and become bigger that all of them at 9Mag. Success will shut them all up.