Benzino Fights Fellow Inmate; Sent To Infirmary!
Things have gone from bad to worse for former Love & Hip Hop Atlanta star Benzino who was arrested this week for attacking Althea's new man. Now he Benzino fights an inmate in jail? What is going on?
CelebnReality247.com previously reported that Benzino allegedly confronted his child's mother, Althea Eaton, and her male friend in a threatening manner, hitting the man's truck multiple times with his fists.
Now, he's been locked up for the past 48hrs and already has gotten his @ss thrown in the infirmary. Read on for more about Benzino Fights inmate…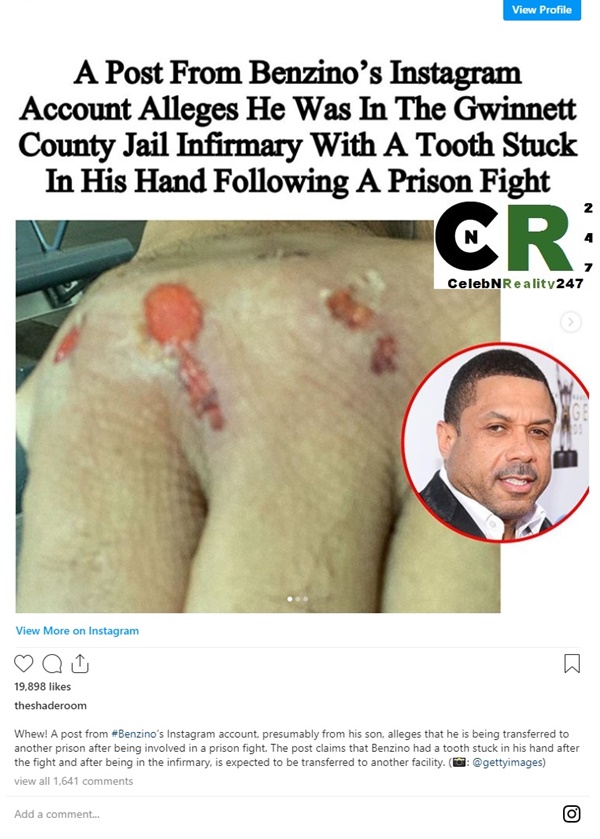 Here is what we've learned:
According to a post made, and later deleted, from Benzino's Instagram account, the reality star is fighting while behind bars at the Gwinnett County Jail Infirmary, Georgia. We checked the docket and Raymond Scott's name did not appear, so we will dub this alleged location.
A screenshot of a post was shared that showed Benzino's injured hand following a brawl on the inside.
The caption reads as follows:
My dad sent me this from the infirmary, he got into a fight with an inmate and is in 24-hour lockdown. The guy's tooth got stuck in his hand, they are transferring him to another prison and should get a bond. If not he will be in for another 90 days. He just wants to thank his supporters and when he gets out he will tell his side of the story #FREEBENZINO.
developing…