Ray J is ready to be like Rod in Jerry McGuire saying "SHOW ME THE MONEY!" Yup, the Love & Hip Hop Hollywood star has evolved into quite the entrepreneur.
According to reports, Ray J has invested a huge $5 million into launching a cannabis company. Read on for the drop on Ray J Cannabis Company
CelebNReality247.com reports that William Raymond Norwood Jr. aka Ray J has finally realized that he needs to secure a future for his wife Princess and their baby girl, so he is launching a cannabis company.
Ray J has finally woke up that his music career is basically flatlined with mediocre tracks, so its time t step up his game and become the entrepreneur he was meant to be.
He announced the news earlier this week via an Instagram post:
WILLIAM RAY LA " JUST LAUNCHED MY NEW CANNABIS BRAND MANAGEMENT FIRM! – PEANUT BUTTER AND JELLY FLOWER –

OIL AND PURPLE LYRIQ THC DRINK- EDIBLES – FLAVORED PACKAGING- And a lot more!! I'm serving as the company with the license to sell and distribute in many states! Starting with Cali , Arizona , Kentucky! Still adding more companies and more brands all year long!! Things don't happen overnight!!
Mr. Norwood added:
Let's make this a successful journey!!! More info on the way!! Click the link in my bio to purchase and for any questions about WILLIAM RAY LA – NEW WRLA JET TO GET US HIGH IN THE SKY!! #G450 ???? #treehouse #WILLIAMRAYLa #peanutbutterandJelly #cannabis #weed #smoke #oil #C21Meds #kentucky #arizona #PB&J #indica #sativa #hybrid #PJ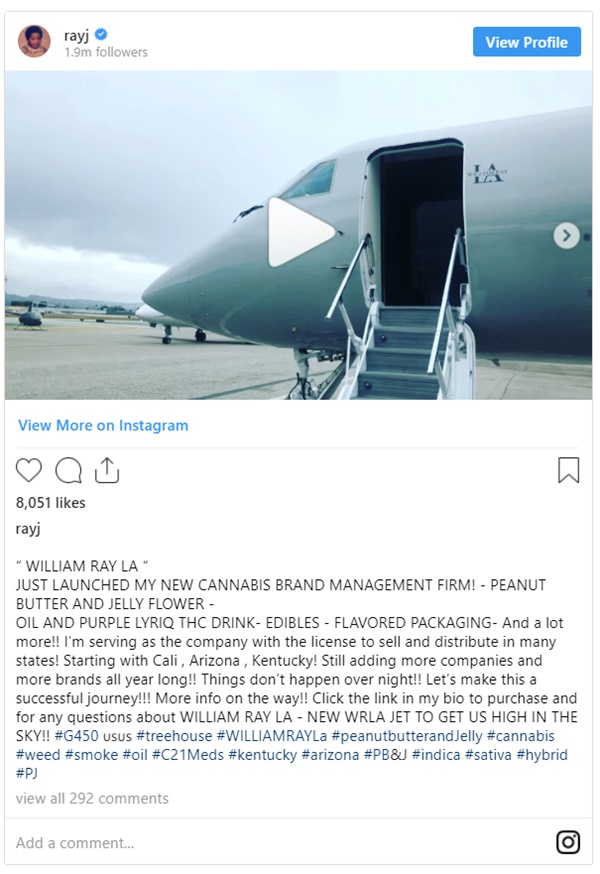 According to reports, the first rollout will feature pre-rolled joints, dubbed, "Ray Jay's."
Take a look: