What Happened To Love Island Purple Haired Hottie Leslie?
Well, if you were watching Love Island, Leslie with the purple hair was there for a hot minute and then she vanished like Denise Huxtable when she went upstairs on The Cosby Show and never returned.
Anyways, CelebnReality247.com has learned that Love Island Leslie Golden says that she left the show over something "a little illegal."
CBS viewers last heard from purple-haired contestant Leslie Golden on the July 30 episode of Love Island USA, when she called out the guys for talking bad about her and fellow Casa Amor newcomer Genevieve Shawcross, who hit back after being labeled as "raunchy."
To be honest, Leslie was constantly on her phone and was just talking so much trash during that day on the show it was unattractive.
You could see it when the OG's were looking at her with disgust from the potty mouth talk. She just came off "raunchy" and that is a nice way to put it. To be honest she sounded like she was a pornstar on the set of a movie.
Anyways, after the islanders' blowup, which the O.G. girls called the first major "drama" on set in Hawaii, narrator Matthew Hoffman introduced the next public vote for the reality dating show. He asked America to turn to the mobile app to vote for their favorite girl and boy in the villa.
Before the drama Cinco was interested, but we all know that would have never worked out.
This is how Love Island handled her quick 15-minutes:
Narrator Matthew Hoffman introduced the girls one by one, fans noticed Leslie was left off and was ineligible for voting.
The next morning, Hoffman kicked off the day with this departure reference.
What a beautiful sunrise. Leslie has left the villa. Well, anyway, how about some more kooky facts? Uh, sure, flamingos are born grey and turn pink after a year or two. Cool!
She posted this two days after being kicked off the show.
View this post on Instagram
If you were still curious why she was kicked off, no worries, Leslie who wasn't supposed to talk about what happened revealed the issue in a creative way.
She posted the reason in her bio:
I got kicked out for having a dab pen.
A dab pen in case you are not in the know is a vape.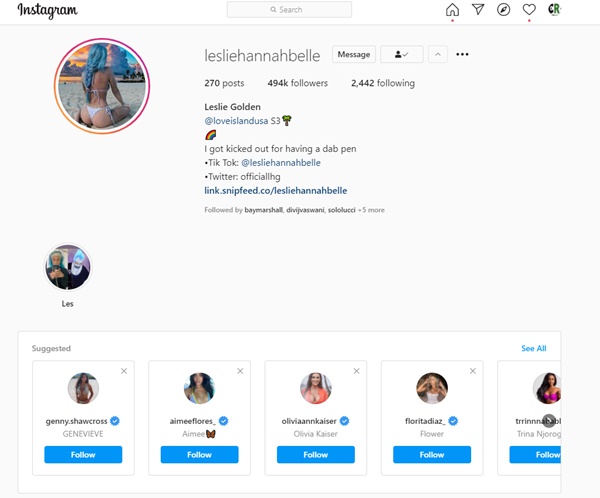 Before Leslie plastered the reason on her bio she enjoyed the fans questioning her departure.
She said:
I would love to say it. I think it's hilarious. I think it's a really dumb reason. Again, very on-brand for me. However, what I did was a little illegal.
Regardless of the true reason, one follower questioned why her exit was "unmentioned and all evidence of you erased from CBS?"
Leslie said she didn't know, writing:
I honestly have no idea why they did that. Maybe to not pull focus from the people who are actually in the villa.
A few Insta slides later, Leslie shared a video of herself smoking a vape pen and said:
Are y'all catching my draft or nah?
In the end, it really didn't matter, Leslie was NOT a fit. And just like she said it was on-brand for her – it was on-brand for CBS to delete her.