LHHH co-star and Miles Brock ex Girlfriend Amberr Laura BLIND-SIDED By FIRING, or as we like to say, KFC Side Dish FIRED from Love & Hip Hop Hollywood!!!
CelebNMusic247.com and CelebNReality247.com has learned that Amberr world came crashing down last week when she learned that she got the axe by Mona Scott-Young when she was on TMZ live. We have the dish….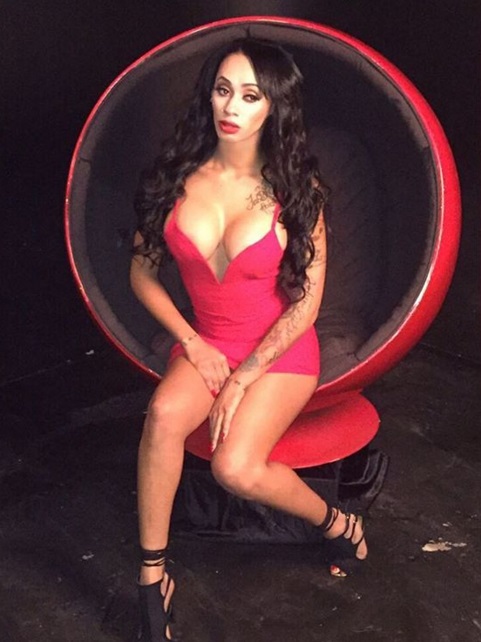 Did you hear, Amberr Laura BLIND-SIDED By FIRING?
Don't expect to see Amber Laura on season 3 of "Love and Hip Hop: Hollywood" because she has no storyline.
Now that Miles Brock aka Siir Brock has come out saying he's gay, bi and then gay again. Amberr is NOT needed for another season of Love & Hip Hop Hollywood.
CelebNMusic247.com has this report on Amberr Laura being BLIND-SIDED By FIRING:
Amberr played a major role in Miles coming out to his family, friends and ex, but now that it's in the can, there is no reason for her return.

On the flip, Amberr is trying to flip the story and is now trying to blame Milan Christopher, saying that he's has been dragging her name through the mud to show execs.
Nice try Amberr, but that is NOT True! We have gotten word from some inside sources that you just have no storyline for LHH fans to care about.
Amberr's rep tells us she found out she got the ax for season 3 when a call sheet didn't come her way. The rep called network execs but they were radio silent, and eventually the word came down … Amberr was out.

Amberr also claims that Milan trashed Amber on Twitter saying she just used Miles to get on the show. Milan says Amberr knew Miles was gay all along.

Amberr even went as far as stating that the relationship between Milan and Miles was fake just to bring a "gay relationship" into the show — and she says that relationship is already kaput, ending on very bad terms.
[rpi]
Despite Miles claiming that he does NOT want to be judged, we all knew that Miles and Milan's relationship was NEVER that serious as they claimed, yes they dated, but it was already over. Though, Miles has gone on record stating that he regrets coming out on national TV. Even though we also knew that Amberr already knew before hand, but was needed for story line purposes of the show. None of their claims are surprising.
Love & Hip Hop Hollywood is already gearing up with new cast members to replace Amberr Laura, Omarion and Apryl who decided to leave the show after season 2. As for the remaining cast members returning are Princess Love, Ray J, Teairra Mari, Milan Christopher, Miles Brock, Moniece Slaughter, Lil Fizz and Nikki Mudarris.
Amberr had planned to reveal that she was dating Petey Pablo on the upcoming season, but that's NOT happening now.
Love & Hip Hop Hollywood's Amberr Laura said she was blindsided by producers who cut her from the show just as she was planning to introduce the world to her new boyfriend, Petey Pablo.
Amberr also revealed to Bossip that she's been loved up with the "North Carolina" rapper for the last seven months, and couldn't wait to share her new relationship with viewers.
Amberr said:
"I was kind of holding it for the show."

"He's a great support system for me. He's a great match. He's there for me, and he understands how the entertainment business works. He keeps me grounded."
What do you think about Amberr Laura BLIND-SIDED By FIRING?