"Black Ink Crew" star Sky's son Genesis has been up and down throughout the series, but it is her son Genesis antics on social media that may land him behind bars.
If this was California, then it would be like so what, but Sky's Son Genesis posted a photo of himself weighing weed and bagging it with a few stacks next to the green. He insinuates that he is making money, but it's NOT looking to legit. Read on because Genesis NEEDS to stop posting photos like the one on the flip…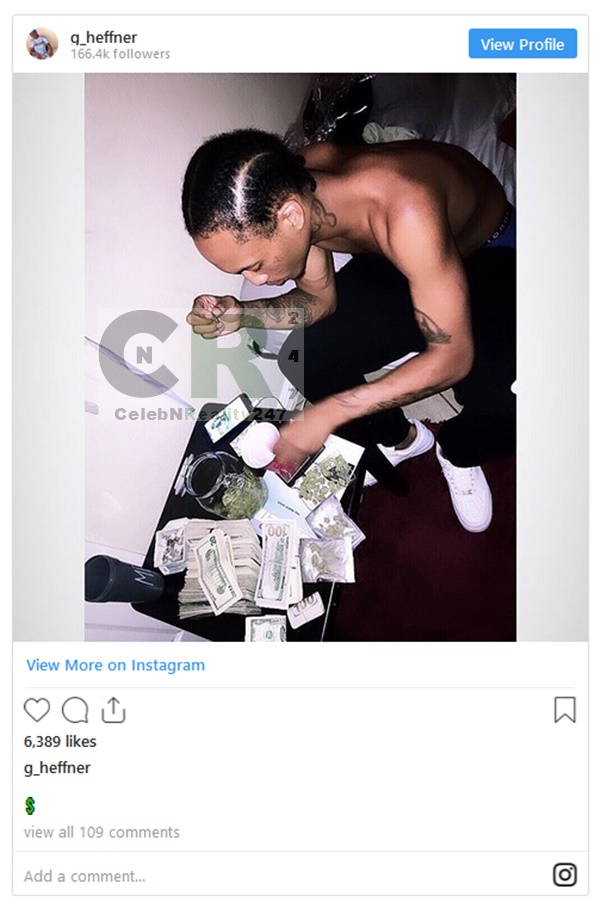 CelebNReality247.com reports that Sky's son Genesis continues to cause controversy on social media with the following photo of himself.
The last time Genesis was on "Black Ink Crew," he made peace with Sky.
They mother son moment was an emotional conversation in which both decided they wanted to establish a relationship. But Genesis struggled to forgive Sky for having him adopted by another family.
Sometime after the episode aired, Genesis revealed that he's back on the outs with Sky.
Their relationship was short-lived.
Since then, he's been getting criticism for his Instagram posts.
Last week, the son of the "Black Ink Crew" star Sky posted a photo that could land him in jail if he is NOT smart.
There have been countless rappers who posted dumb things on social media and landed in jail.
This one is right up there with Chief Keef, Kodak Black, Bobby Shmurda and more.
The photo he posted gave off a suspect that he may be selling drugs.
His followers took to the comment section to call him out, but he made it clear that he doesn't care.
One follower writes:
Y'all gotta do better. Putting your shit out there on social media for everyone to see ain't it man. You youngins got it so wrong. The best hustlers are the ones that never flex and move in silence. Don't be shocked when they come busting in doors!!
Another writes:
So much potential but so young minded your ego will always keep you down with the scavengers stop holding yourself back KING.
Check out this post:
Why would you post this?
Then he got checked by this follower who writes:
@g_heffner ok so when you get locked up for selling drugs, don't blame anyone but yourself. Move in silence! Is posting these pics for a few likes or a little clout worth it? Come on man, use your brain! I'd hate to see another brother get locked up? Be smart! Don't be a statistic!
At the end of the day Genesis doesn't care. #SMH