Chrissy Lampkin "Not Sorry" For Kimbella Beat Down!
It's been seven years since Love and Hip-Hop New York fans witnessed the punch-and-kick-combo heard 'round the world!
Now, Love and Hip-Hop New York have turned 10 and the OG's [Erica Mena, Tahiry Jose, and the infamous Chrissy Lampkin] are back to rehash the past, make amends or not. Read on to get Chrissy Lampkin, Kimbella, and Yandy Smith's views…
CelebNReality247.com reports that Chrissy Lampkin, Yandy Smith, and Kimbella are looking back at the notorious 2012 fight when Chrissy threw down on Kimbella.
Now before we get into this mess, let's get to the bottom of the beef between Yandy Smith Chrissy Lampkin. See Lampkin is NOT one to mess with, she will fight you at the drop of a hat or when she sees foul moves.
That is what happened when she sucker-punched Kimbella and kicked her in the stomach in 2012. She thought Kim was foul for telling Fabs girlfriend that she had slept with him three years ago (2009) while Emily B. was pregnant with their son.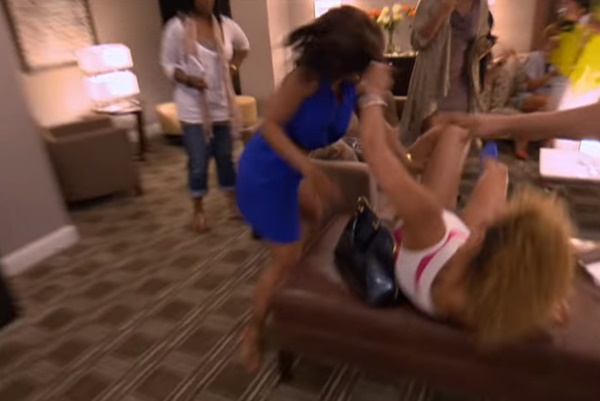 The reason why Chrissy Lampkin and Yandy Smith fell out is the fact that Yandy made it a point to tell Chrissy it was all about the checks. The incident in the video when Smith is dancing to Mama Jones' song, and then saying she signed the dotted line and bring in money sat wrong with Chrissy. She even told Yandy if that is all she is worried about she is going to f-ck herself with Jimmy. And that it did.
Chrissy explains why she went HAM on Kimbella at that time.
Lamkins said:
Now that it's 8 years later, of course, I initially, didn't wanna tell Emily in front of everybody. I wanted to take her to the side and let her know. Regardless of any situation, I needed to let her know because I was gonna be around her…it got real crazy. I felt like it wasn't Chrissy's fight. It was Emily's fight.
It was just a foul move on Kim's part so Chrissy Lampkin did what she do.
Lampkin set it off by putting hands on Juelz Santana's then-girlfriend.
Chrissy said this about the situation that went down back in 2012:
To my defense, I thought the cameras were off! So ugly! This is so ugly! Stop it! I don't wanna see it! It was terrible! It's not my greatest moment; it's not my proudest moment. And I know it's gonna sound a little crazy- it may be convoluted. But I'm not sorry for what I did. I'm sorry it was her, 'cause she has become his wife and the mother of his children. But I felt like I felt. It is what it is…I don't want people to know me for fighting- that's not my thing. But it is in me, obviously!
Yandy Smith witnessed the fight firsthand and this was her perspective.
She explains:
I remember that night. I was told it was a housewarming party, ok? But it was, like, some 'my emancipation from my man' party. To be honest with you, in the moment, if you were there, there was good reason behind her telling Emily…What happened was, which you didn't see, was, Emily said, 'I saw you in his phone before.' They didn't show that! She said, 'Yes. I used to deal with him or talk to him' or whatever she said. Should she have lied? In answer to that, someone got very upset who had nothing to do with the situation. It didn't make a lot of sense to me…I heard her say something about, 'Let me go to the bathroom,' or, 'Let me just get some air.' Oh, that air turned into an air-out of Kimbella's punani! If you were there, it was bad!
Kimbella is NOT mad, the incident propelled her career:
Despite the intensity of the moment, Kimbella says she is now on the totem pole of reality TV stardom.
I lived that. And to this day that's why I'm, 'Still pretty!' That moment will always be an epic moment no matter what.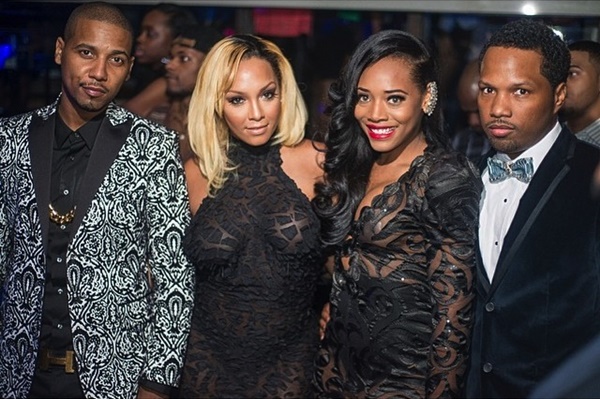 Chrissy Lampkin doesn't feel as Apologetic:
Oh no, Chrissy explains that these days "I am slow to anger these days."
She felt Kimbella was wrong for telling Fabolous' longtime girlfriend, Emily Bustamante that information at that time. Chrissy was defending Emily over the dirt that was revealed by Kim.
Lampkin states:
That was a time I thought she was purposely disrespecting a girlfriend of mine that was in a really hard spot. She was trying to be emancipated from, not neglect, but a bad situation. And we're supposed to be supporting her… a girl's party. And you come in here with this craziness…I don't wanna see none of my friends hurt unnecessarily…Emily did pick up my clip-ins! I know y'all saw her stuffin' 'em in her shirt or whatever! So she held me down, as well. Emily is baby sis. She's shady as f***, but no matter what I love her to death.
If you watched Love & Hip Hop New York on Monday you might have noticed since Chrissy and Kimbella have squashed their differences and put the fight in the past they've bonded.
Though it has left Yandy confused. Yandy thought she and Kim were in a good place, but Kim made it clear that Yandy is messy and that is why they're NOT friends like they used to be. Kim feels Yandy is FAKE and that is the thing she has in common with Chrissy.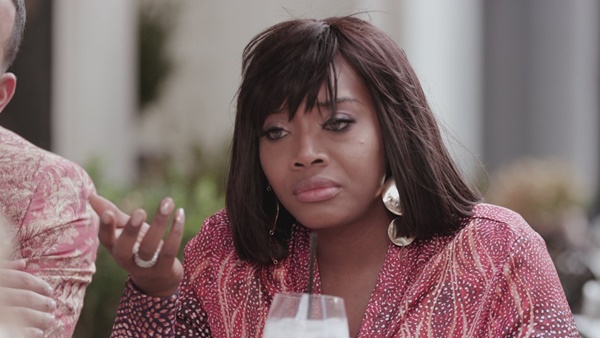 Yandy Questions Kimbella:
Anyways, it prompted Yandy to like a tweet questioning why Kimbella got upset with her while defending Chrissy, the one that beat her down in 2012?