Following Joe Budden's announcement that he and Cyn Santana have NOT called off their engagement, the Love & Hip Hop couples relationship seems to be on the rocks.
Now, Cyn Santana sends Joe Budden cryptic message on social media that has everyone in question once again…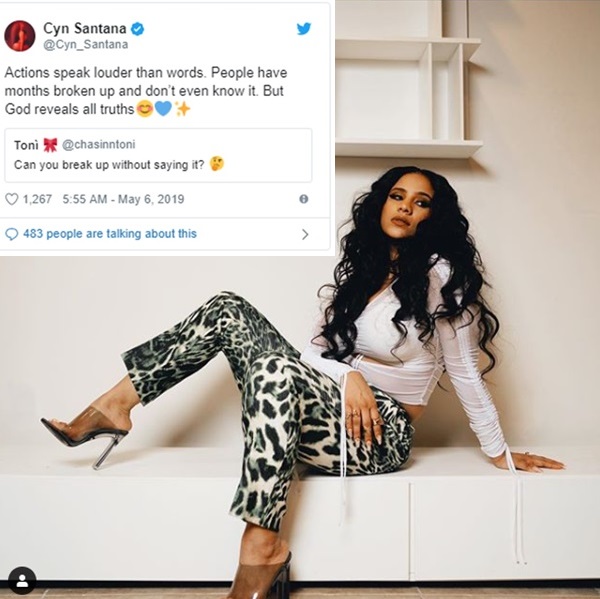 CelebNReality247.com advice to celebrities, "stop living your life on social media." Joe Budden just cleared the air and laid the rumors to rest and now Cyn Santana has thrown some wood back on the fire.
Apparently, Joe Budden and Cyn Santana have hit a rough spot in their relationship.
Joe Budden told his Tampa audience that they are still together, but not living with each other and no they have not spoken in a while, but he has an excuse for that as well.
The LHHNY couple has been engaged for only 5 months now, and it seems communication is the main problem in their relationship.
Joe is a hustler, he stays busy and he NEEDS a woman that can understand his busy lifestyle sometimes takes him away for long periods of time. That does NOT mean that he is cheating or has called it quits, but as Love & Hip Hop fans watched, Cyn Santana is on the NEEDY side of the spectrum.
Cyn Santana NEEDS to understand that she too should be working and staying busy and when she and Joe are together she needs to cherish the moments. On the series they showcased their love and now is appears next season, producers may be focusing more on their breakup?
Joe Budden reassured people that he had not broken up with his fiancée. However, he was comfortable saying that she had moved out of his house. Now, Cyn is chiming in with her own cryptic message, tweeting that sometimes "actions speak louder than words."
It doesn't feel like either Joe or Cyn will be giving people a straight answer because now, Santana has addressed the rumors herself on social media.
Cyn Tweet reads:
Actions speak louder than words. People have months broken up and don't even know it. But God reveals all truths!
Cyn, Really? #SMH