What's up with Real Housewives of Atlanta stars Cynthia Bailey and NeNe Leakes?
Cynthia Bailey and boyfriend Mike Hill take a major step in their relationship. While NeNe Leakes is by Gregg's bedside.
Read on to find out what Real Housewives of Atlanta star Cynthia Bailey and her new man Mike Hill just did an in taking a major step in their relationship. Also, get the latest NeNe Leakes on Gregg Leakes having surgery…
CelebNReality247.com reports that sources are saying that things are heating up from Real Housewives of Atlanta star Cynthia Bailey and her new beau Mike Hill.
Mike Hill can't stop gushing about his beauty, Cynthia Bailey after she stopped by his work at FOX Sports:
Won't He do it?? LOL. I appreciate her love, support, positive energy, and hustle. I just appreciate her period!!
Cynthia Bailey had this to say about Mike:
Life is so precious. God does not make mistakes. Keep living, smiling & pushing thru… #gotoworkwithbaeday
Cynthia and Mike are making #gotoworkwithbaeday look really good.
In addition, to the love posts, Cynthia has not been shy to gush about the romance and the man she's fallen for, even going so far as to say that he's "the one."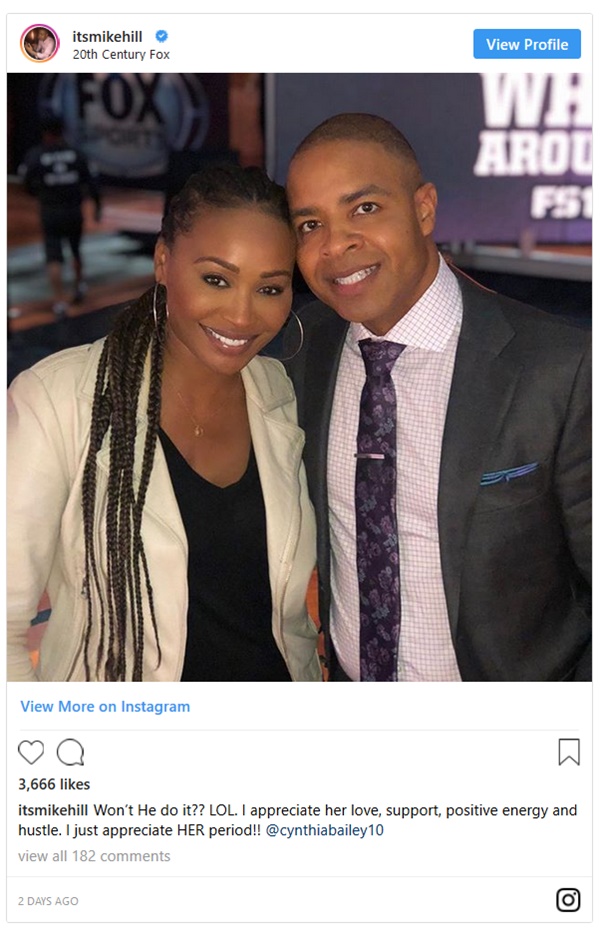 NeNe Leakes give update on Gregg Leakes undergoing surgery for cancer:
Over the summer NeNe Leakes revealed that her hubby Gregg Leakes was diagnosed with cancer.
Since then, The Real Housewives of Atlanta's NeNe Leakes has shared every step of their fight to battle the disease, including making healthy lifestyle changes with diet and exercise and doubling down on her prayers.
NeNe wrote on Instagram Monday:
My hunni is having what we hope and pray is his last surgery towards a full recovery today! It will be a long surgery so we are asking you to pray for the surgeon's hands, pray for Gregg's comfort, please! Prayers, strength, peace, and kindness for myself, his children, family, and friends during this time! Amen (come on pray warriors) Lord I tell ya, sometimes you never know what a person is going thru! I will update you all on IG.
Mrs. Leakes made is clear after Gregg's diagnosis in June that they would be aggressively taking on the disease together writing, "Our New Normal and the fight begins."
In August, NeNe gave an update on Gregg's health: