The shade is real when it comes to NeNe Leakes and Cynthia Bailey.
NeNe Leakes was on the Talk where the ladies asked her about Cynthia Bailey and her boyfriend Mike Hill. Wait until you hear what NeNe said…
CelebNReality247.com reports that things are getting really ugly when it comes to NeNe Leakes and her beef with her estrange friend Cynthia Bailey.
It appears that NeNe Leakes has insinuated that Cynthia Bailey and her boyfriend Mike Hill are using their upcoming engagement announcement to get asked back for RHOATL Season 12.
The only problem is Cynthia Bailey's fellow housewife Nene Leakes just dropped a bombshell.
Yes, NeNe is sabotaging any chance for Cynthia Bailey and her boyfriend Mike Hill to get another season with the tea she spilled on the Talk.
All of Season 11 Cynthia and her boyfriend, sportscaster Mike Hill, have been telling viewers all season that they will be announcing their engagement soon.
According to Nene, Cynthia and Mike's relationship s "fake" and more of a business relationship, that a love relationship.
Nene made the explosive allegations on the daytime talk show The Talk.
During the interview, host Eve asked Nene what she thought about Mike and Cynthia's impending engagement. And Nene started spilling tea.
Nene said of Cynthia's engagement:
I would announce the same thing if I was trying to get another season on the show.
Nene continued:
Everybody has to have a storyline.
Then Sheryl Underwood inquired:
Are you saying [the relationship] is not real?
And Nene replied:
I'm not saying it's not real. I'm just saying people would do anything for money, honey.
It's no secret that "Cynthia lives in Atlanta and Mike lives in Los Angeles" according to one of the Housewives. Cynthia and Mike are doing the long distance thing. He won't be able to move because he's a sportscaster and his job is in LA. Cynthia's is a reality TV star and owns her business in Atlanta. The long distance thing is going to get old if one of them doesn't make a choice, but Kenya Moore is doing it with Marc Daly whose business is in New York. Different strokes.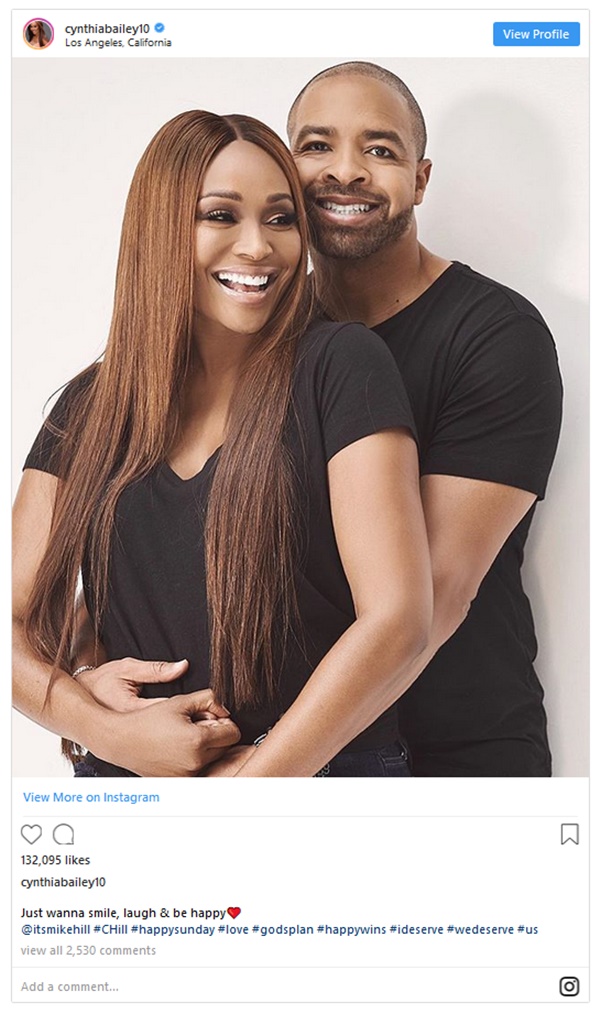 Word is that Cynthia plans to announce their engagement next weekend, right before the reunion show airs.
Recently, Cynthia Share on the Bravo blog about her alleged "fake" boyfriend Mike:
This is how I feel about Mike — and we say this all the time about each other — if I can't make it with Mike Hill, then I'm just meant to be single for the rest of my life because he just gives me a comfortability I just can't explain.
She continued to say:
I'm at a point in my life where I'm just really all about peace. I really just want to be happy. I work hard. My personal life just has to be this zen-ful, peaceful place. Honestly, when I see him, when he's around, when I'm at his place, when he's at my place, literally the stress just leaves my body. I feel so happy and so calm and so balanced when he's around. He just knows how to make me feel, it's like an energy thing. We really are pretty connected.
If Cynthia announces her engagement this weekend, then what NeNe said is true.