This is truly insane, and Ronnie Magro + Jen Harley relationship is on a crash and burn mode!
Jen is now claiming that Ronnie Ortiz-Magro killed her dog!
Dog lovers cover your ears and don't read this post because this is really some sick shh if any of it is true.
Jersey Shore Family Vacation star Ronnie Magro is being accused by his baby mama Jen Harley that he killed her dog. Continue on to hear the video…
CelebNReality247.com reports that Ronnie Ortiz-Magro and Jen Harley relationship is beyond toxic, the violence is EPIC and it's becoming insane.
In the video (above), you can hear a hysterical Jen Harley going off on Ronnie Margo claiming that he killed her dog. In the video can hear that she is in a drunk state of mind making accusations. This comes hours after Ronnie's extortion claims.
What it sounds like is that this incident was the lead up to Ronnie's bruised face. Earlier this year Ronnie vowed to be a better father and person. 
You can hear Jen accuses the Jersey Shore star of killing her dog just before the hitting occurs.
Jen posted on Instagram:

Naturally, Jersey Shore fans were having WTF moments, so the blew up Jen with tons of questions, but she deleted the post.
#RIP Jen's Dog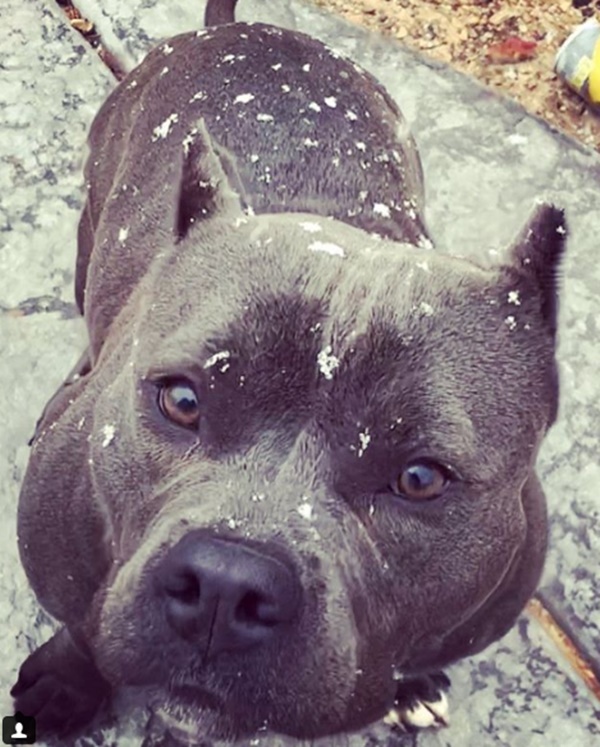 Ronnie Magro is starting to look like an idiot trying to make a bad thing work.
There is NO LOVE coming from Jen Harley and the dysfunction is OVERLOAD!
Why can't Ronnie realize that Jen may be the mother of his child, but trying to make a toxic situation work could end up fatal. Too many people don't leave bad relationships and end up dead.
We really want Ronnie to dump Jen at this point. We just hope someone can get through to him. He just seems like a very co-dependent type of guy who needs to be in a relationship to fill the hole in his heart.
Days before the headlines, Ronnie was still in denial mode: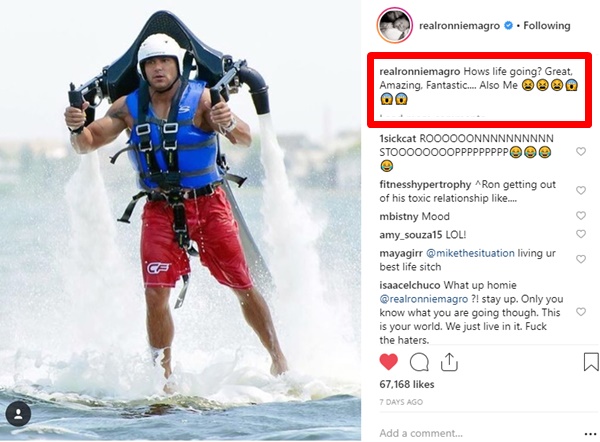 Editor UPDATE regarding Jen's Dog:
We just got word that the dog was mysteriously killed while Ronnie was filming at a nearby hotel on the Las Vegas Strip. He was NOT there according to a Reddit user who says the dog's death occurred before the incident where Jen punched him and spit in his face while filming.
Check it:
Omg!!!! Just saw this news. What the f-ck????? Jen Harley (Ron's baby mama to Ariana Sky) was supposed to be taking care of their dogs while Ron was filming and came home to find the pit bull DEAD in the pool??? How does that happen?? I'm so upset over the poor dog. Oh my goodness. She then shows up unannounced at the hotel their staying at. She and Ron have a fight – shocker. And she hits him it the head and spits on him then takes off. Apparently, she wouldn't tell him where their daughter was.

I am no Ron fan. But omg…Jen is nuts!!! Holy hell!! Hopefully, now people realize if they didn't before. And that poor baby!! Plus where is Jen's son Mason???
The Situation stated 4 months ago:
Actually, Ron found her/her son's dog dead under suspicious circumstances. He let them out and came in a few mins later with the dead dog. Then cremated it in the middle of the night without even telling anyone. Very sketch.
JWoww also said in July:
Ronnie told police they'd been arguing since Wednesday when he found their dog dead at the bottom of their pool.
#SMH