He's FREE! Love & Hip Hop Atlanta star Scrapp Deleon is out of jail and back at home!
Scrapp Deleon is finally out of jail after being sentenced to five and 15 years probation in 2016 for marijuana trafficking charges. It seems to be a bit extreme, but he's home after serving two. Read on for more details…
CelebNReality247.com received word today that Scrapp Deleon was released from prison on Sunday, September 30, 2018.
Scrapp Deleon made his debut on Love & Hip Hop Atlanta with his girlfriend at the time Tommie Lee. They quickly became a fan favorite couple but they broke up and he went to prison for weed possession.
Scrapp looking thug ready! Ladies watch out!
Karen King posted a photo of Scrapp Deleon hairy chested torso which mysteriously appeared on her Instagram today alongside a caption.
The caption reads:
All I want to know is ——— Do you know who this body belongs to, Thank God this is my middle, every day I thank God for my children, I'm the proud mother of 4 boys, 3 girls,, I only gave birth to 3 boys, but my children consist of Stay ready, Dolla, Scrapp, Sas, Divinity, Cheyenne, Nicole, I love Y'all.
Mama Dee then uploaded a photo with the newly freed artist accompanied by the caption:
Showing love to @iamthequeenkarenking Scrap free at last thank God almighty he is free much from the palace.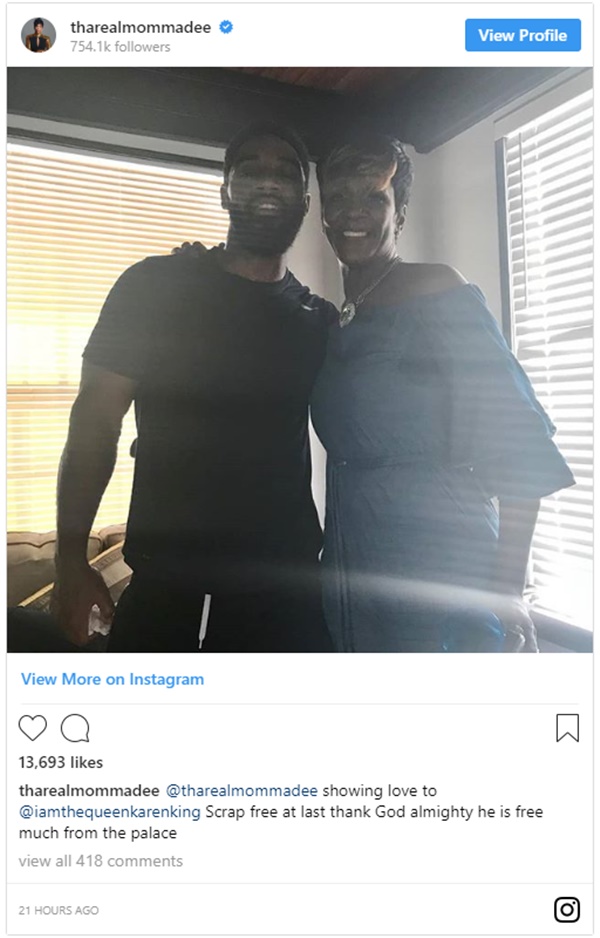 One comment from a happy fan reads as follows:
I am so happy they finally released him, the law in that state need to be redone, it's crazy you get more time for weed than murder, I don't smoke or drink, never have, but weed as my 34 & 35 y/o sons call it, have never caused anyone to commit any crimes other than the munchies, congrats Scrapp, look forward to seeing you back on the show with your son, mom, brother and cast "HOPEFULLY".