Omarion's baby mama and former Love and Hip Hop Hollywood Apryl Jones got into a heated debate with Moniece Slaughter over Lil Fizz.
On the night before Christmas Eve Moniece Slaughter was trending on social media when she starred in on Apryl Jones kickin' it with her ex-Lil Fizz. Read on for the tea spill…
CelebNreality247.com reports that former Love and Hip Hop Hollywood star Apryl Jones spoke out again with her relationship struggles with her baby daddy Omarion.
While Apryl Jones was airing out Omarion's dirty laundry, Moniece Slaughter appeared to spill tea about Apryl and Lil Fizz.
This seems to be a lot, especially since B2K just announced their reunion tour. We guess, Fizz and O have an understanding that its cool to smash one's, ex-baby mama?
Probably NOT!
Anyways, Moniece Slaughter and Apryl Jones caught plenty of attention dragging each other for filth on social media for all to witness.
The drama began when Moniece revealed she's moved on from her ex AD Diggs with a man. Yes, Moniece is no longer swimming in the lady pond. She's no longer vegan and only eating fish, she's back on the man meat diet.
In fact, Moniece left a lengthy message for the mystery man she claims has been holding her down.
Moniece writes:
For the past year and a half, you've been consistent. Even when I wasn't. I've cried. I've cursed my face off. I've shared blissful moments with you when I thought I was at my happiest. You've been a shoulder to cry on. Even in the midst of your own storm. You checked on me when too much time passed that you didn't hear from me. You provided a judgment-free zone.
Moniece makes sure NOT to reveal her main man's name as she is trying to keep him a secret for now.
She adds:
Never criticized me or made me feel crazy through my ups and my downs. Instead, you offered empathy. Patience. And understanding. A true friend. And I cherish every moment. I just wanted to say thank you for helping me see my worth when I was at my lowest. For encouraging me not to give up on the idea of loving the next person that enters my life. Constantly reminding me not to be too hard on myself. Supporting my every career move. From tears of doubt to tears of joy. You're the best friend a girl could hope for.
She points out that she "appreciates" him for being her rock and "staying solid through the most fluid time in my life."
Slaughter concludes:
I appreciate you for staying solid through the most fluid time in my life. They say you know who your true friends are when you go through your darkest times. You were there holding my hand. So for that. I'm forever Indebted to you. And to show my gratitude, I promise to be just as good to you, as you've been to me. And I'll hold your hand through every trial & tribulation. Helping you over every obstacle.
#youknowwhoyouare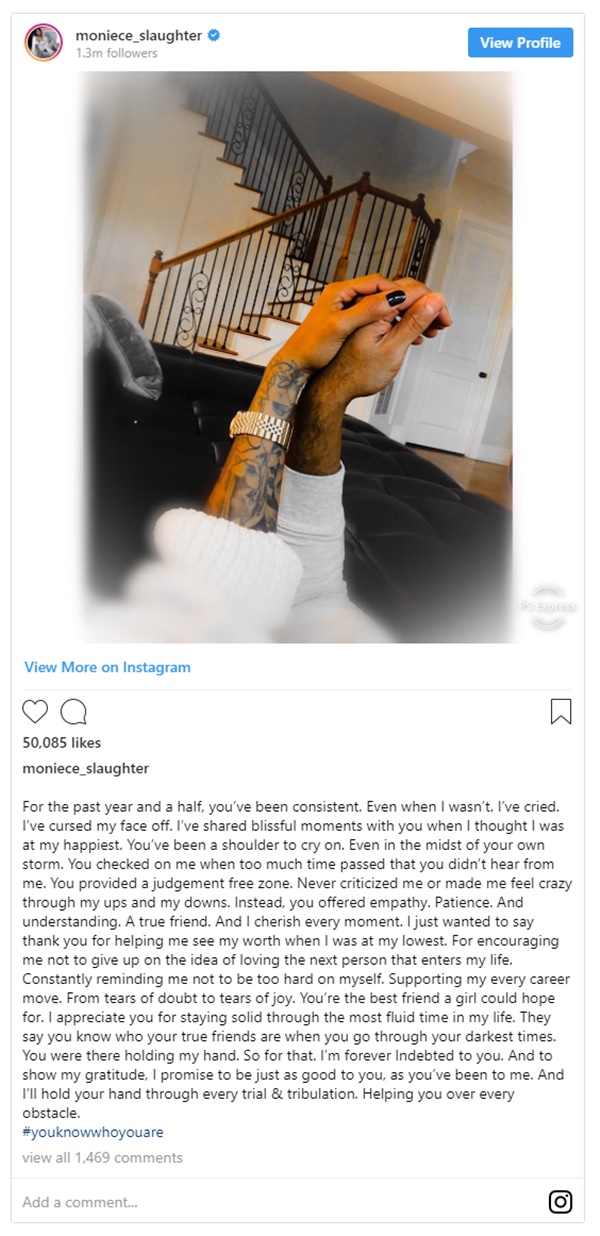 MONIECE WEIGHS IN ON LIL FIZZ SMASHING OMARION'S BABY MAMA:
To throw salt Apryl's way, Moniece did her typical SHADE by spilling tea in the comments about Jones and Fizz being an item.
Things only got more interesting so during Apryl's Instavideo Live she was asked about dating Lil' Fizz. Of Course, Apryl vehemently denied this allegation made by Moniece.
Rumors about Fizz and Apryl started in early 2018. In February, Fizz and Apryl were spotted hanging out in VIP during a club event.
APRIL JONES SPILLS TEA OMARION IS A DEADBEAT DAD:
Apryl threw out even more allegations regarding her current standing with her ex Omarion. Not only do they no longer talk, Omarion served her papers on Mother's Day.
This stems from a Los Angeles County Department of Child Support Services case filed against Omarion.
Jones drops a BOMB saying she and O put up a front for the "Love and Hip Hop" cameras and what really was going on between them was further from the truth.