Basketball Wives star Malaysia Pargo is said to be returning for another season with the girls, but first, some mess has surfaced.
A Love & Hip Hop Atlanta star is putting Malaysia Pargo boyfriend on BLAST in a major way. Read on…
CelebrNReality247.com has some tea spilling on Malaysia Pargo boyfriend Bryant "B. Moe" after a Love & Hip Hop Atlanta star Tiarra aka Tia Becca BLASTED him.
In case you didn't know, Tia Becca is the ex-wife and mother of Bryant 'B. Moe' Shaw child. Tiarra is upset with Bryant so she's decided to air his dirty laundry stating that he hasn't paid her money he owes her for child support.
Tia took it a step further by putting her ex on blast, tagging his new girlfriend, Basketball Wives star Malaysia Pargo.
Apparently, Tia Becca just wanted to let Malaysia Pargo know her boyfriend is a deadbeat dad.
Ouch!
What is crazy is that it appears that this may be Malaysia's storyline since this tea spilled earlier in 2018. See Tia called out her ex-husband for tricking off on Basketball Wives Star Malaysia. She also aired his dirty laundry stating he owes he 25K he owes her. Then, accused him of having an STD and bleeding out of his @ss. #OMG #SMH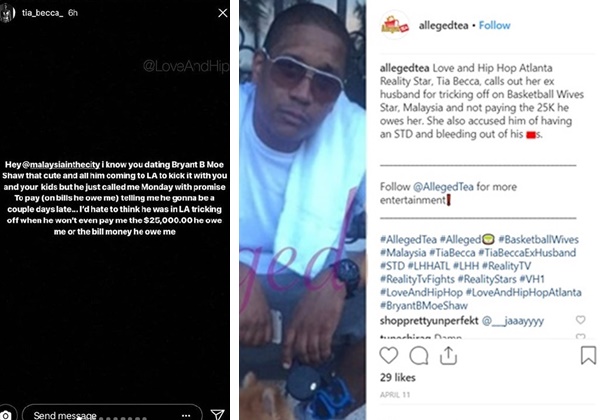 To catch Y'all up, last season Malaysia remained single and according to her… celibate. Now, with the new season ramping up, she's got new problems with a new man. She's currently with Bryant 'B. Moe' Shaw but we are NOT sure any of this tea will spill on Basketball Wives.
Malaysia hasn't got many names in her ex-boyfriend's list. After divorcing her ex-husband Jannero Pargo in 2014, she was romantically linked with musician Mally Mall. Plus she also had a short spell with her ex-boyfriend O.T Genasis.