Black Ink Chicago's Charmaine SLAMMED For FBG Duck #BLM Comment!
Charmaine Bey had her fans up in arms after she said that Black Lives Matter even when its a black on black crime. She was referring to the shooting of rapper FBG Duck who was shot dead in Chicago. Continue on to get the tea on Charmaine FBG Duck #BLM Comment…
CelebNReality247.com reports that Black Ink Crew Chicago star ignited a backlash after she pointed out that black lives matter even when its black on black murder.
Charmaine Bey explains that black lives matter does just matted when police murder and kill black people. No, IT MATTERS ALL THE TIME!
As she stated above taken from a series of now-deleted tweets, Charmaine voiced her opinion on the recent killing of Chicago rapper FBG Duck.
Charmaine questioned why some black people can't be as passionate about violence in the black community as they are police brutality.
The 29-year-old "Black Ink Crew Chicago" star said:
I understand systemic racism but in 2020 we look stupid as h*ll screaming #blm and killing each other the way we are. If we can't stand police killing us why can we stand killing each other at this point? Why can't we make a conscious effort to PUT THE GUNS DOWN #chicago?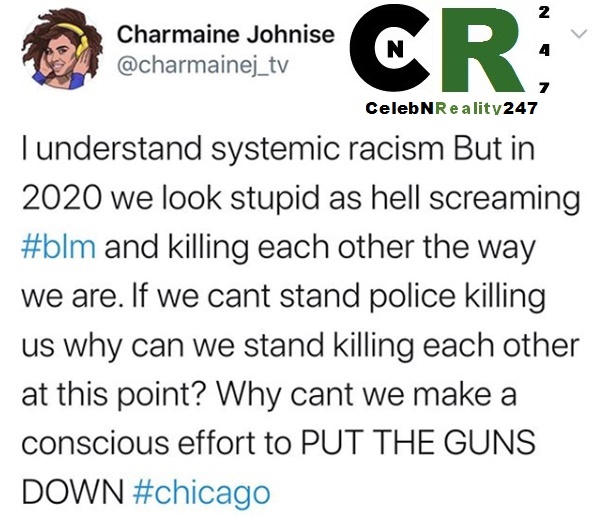 She added:
Some people won't get it!

CHARMAINE RESPONDED TO THE BACKLASH:
After some of her followers begin to take issues with her tweets, Charmaine wrote:
I'm not comparing #blm to crime in our community but it p*sses me off that we killing each other yet asking people to care out (sic) our lives. Sh*t doesn't make sense.
She added after more backlash surfaced:
Ppl focus so hard on not mixing the two that ur not getting my point. Black lives matter when police kill us and when we kill us too. All that ship (sic) need to stop!
Charmaine attempted to clarify her points, quite a few of her followers expressed their outrage with her tweets.
She ended up DELETING ALL of the tweets.
The new mommy made factual points but these days social media is so quick to be offended it's ridiculous. We understand what she was trying to say.