Black Ink Chicago star and up and coming rapper Phor may no longer be with Nikki Nicole, but he's "looking for that Phorever Thing."
Not only that, Phor has been previewing his new music, and he's speaking on his failed relationship from Nikki Nicole. Read on for the tea spill on Black Ink Chicago's Phor...
Black Ink Chicago's Phor recently spoke about looking for Mrs. Right since he is a single man again.
Meanwhile, Nikki has moved on with her life and was spotted kissing 50 Cent during Super Bowl weekend Friday night. We doubt that's more than just a thing for a season.
CelebNReality247.com reports that Phor has been focusing on new music and "Looking for a Phorever Thing" with a new lady.
So far, he has had one hook up when he was out in Las Vegas allegedly with Joyia Inez Strickleand.
Phor posted this caption with her pic:
She finally met me and her family is still alive ????? look at god I appreciate your love for supporting me the way you do ?? she Gang now.
Joyia wrote:
What you do to me ?????? @phoreverim ?? Everything #PHOR
Is there more going on, could she be Phor's "Phorever Thing?"
As for Phor, here is what he said:
Women come in and out my life but I'm looking for a Phorever thing ya dig!
Before you start feeling sad for Phor, he reminds us all:
Happiness is a choice, not a result … choose to be happy!
Back in October, he posted this subliminal confirming he was single: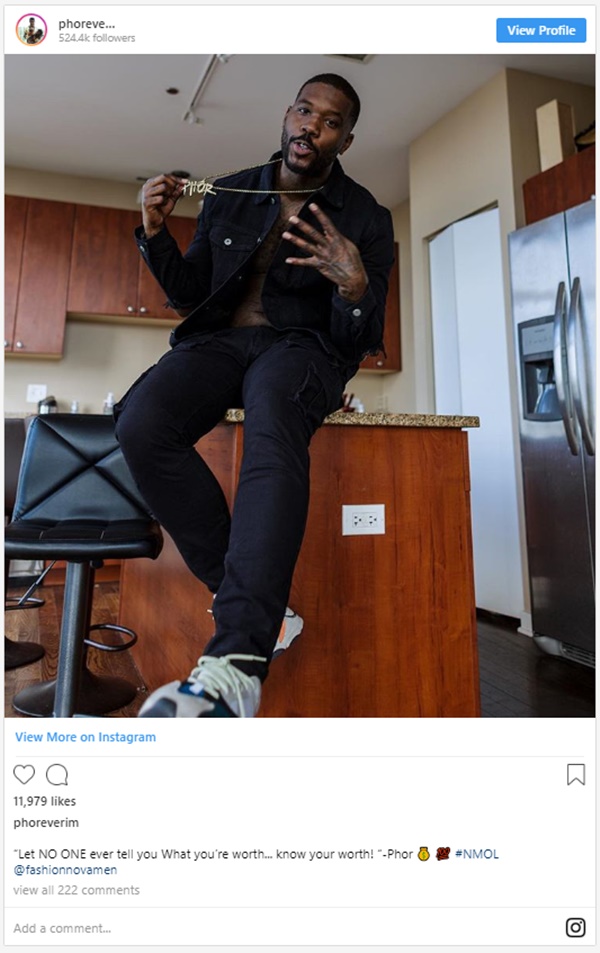 It appears Phor has also moved on since his new music seems to be talking about his relationship and breakup from Nikki Nicole:
View this post on Instagram
Phor is ready to drop some new music HOE WITH ME" produced by @bennyflashh: