This week on Black Ink Crew we get to see Teddy doing what he does best…NOTHING! Oh wait, he is once again spitting game on London and trying to make her his new now next.
It's the same song and dance, the same lines he spits to all the other women from Black Ink Crew. To top it off, he is trying to drive a new wedge between Ceaser and Puma.
What is family for? If it was us, Teddy would be 86'd! But he makes good TV we guess. So let's get into Black Ink Crew 8 Ep 7. What Happened This time…
CelebNReality247.com is here to catch you up on Black Ink Crew 8 Ep 7. and hat happened this time?
Well, the episode kicked off with the ladies going out on the town and picking up Sky who was wearing a super revealing see-through outfit.
They partied it up and had a fine @ss stripper take it off in their party van before hitting the club.
Across town Walt and his soon to be wife fall out because she doesn't want to have any more kids. He wants a big family but now he is being selfish and his true colors of only wanting a woman to impregnate get revealed. Walt is messed up and NEEDS to understand it' NOT about what he wants. Not to mention only wanting to marry his woman to knock her up is F'd up. Does he really love her?
Next, the crew had a human resource meeting and Sky wanted to make sure everyone was smashing. Donna reveals all the tea and throws Teddy under the bus smashing London. Sky wants to bring everyone together and announces a mandatory retreat.
Then, Mike met up with a girl he smashed when he was more on the fluid tip, before becoming strickly dickly. He learned that he is possibly the daddy of a 5-year-old boy. If it is true, he wants to be a dad to his son.
After that, Ceaser, Puma, and Teddy headed over to Brooklyn to speak with the mayor and open up a new shop there. It's a full 360 for Cease since he started in Brooklyn.
Teddy posted this video and photo of Cease getting his citation for his Brooklyn location:
View this post on Instagram
Later, when Ted got his chance to plant a seed in Ceaser's mind about Puma being half owner and how he believes his cousin is moving too fast. He tells Cease to watch out for Puma. Real hater shhh. Teddy is showing his snake moves.
Finally, Sky's retreat is upon the group. Everyone gets in two fans only to be delayed waiting for Teddy who is chillin with London, his new conquest. He assures her that they're going to work something out to get her back. BOOO! Teddy finally shows up after the crew waits an hour for him only to get stuck in NYC traffic. One van ends up breaking down and the crew is forced to pull over.
That doesn't stop Sky from burning sage and blessing the crew with positive vibes. She is wearing a silver leave looking like mother earth. Mike gets into the mood and takes off his clothes. #Yum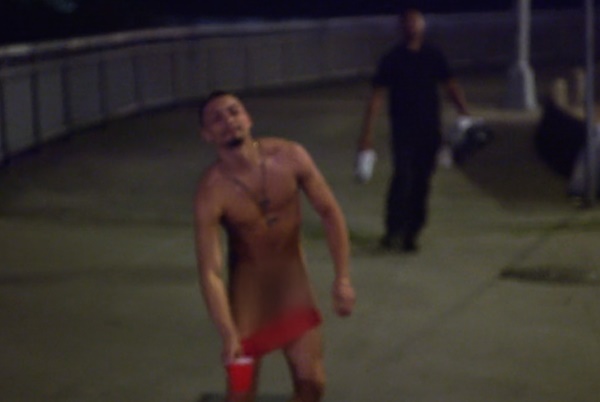 That's it until next week.