Black Ink Crew' Star Teddy Ruks Boo Euni Responds To Criticism
VH1's Black Ink Crew may not be on right now, but the drama continues off-screen when it comes to his interracial relationship…
View this post on Instagram
CelebnReality247.com reports that "Black Ink Crew" star Teddy's love life has been pretty interesting throughout his time on the show.
He first had to go through some mishap relationships with Sky, Jadah Blue, and Tatti. But when it came to finding the one, he found it with Euni.
The couple receives a lot of support from the rest of the cast and fans of the show on social media, they do still have some critics.
In fact, Teddy has been accused of mistreating the black women he's dated and treating non-black women much better.
We don't think that is the case at all, Teddy and the women at Black Ink were NEVER a match. They were all more of friends with benefits.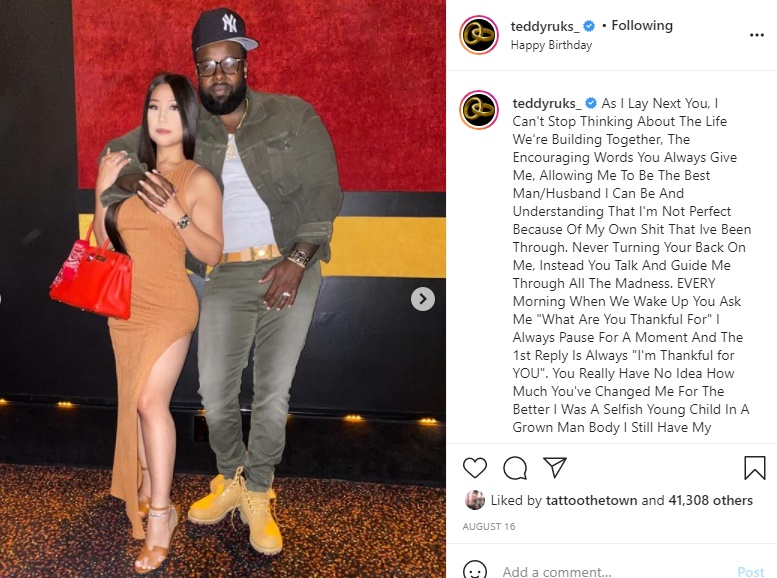 Recently, he addressed this accusation responding to someone on Instagram:
Teddy wrote:
Slide through my comments and tell me who has the most negative things to say about me. 'My own' don't want me/us lol. You have a blessed day sister.
Well, Teddy recently had some sweet things to say about Euni on her birthday. And he said he can't wait to continue to build a life with her.
View this post on Instagram