Candiace Dillard Bassett: Monique Samuels Is A 'Flip Flopper'!
Real Housewives of Potomac has had a lot of drama going on and it continues to escalate as the year's progress. Read on for more about Candiace Dillard Bassett and Monique Samuels…
CelebNReality247.com reports that Candiace Dillard and Monique Samuels friendship has been a rocky one.
The Real Housewives of Potomac's Candiace Dillard Bassett believes that Monique Samuels cannot be trusted.
And during Ashley's coming out dinner for the first time since giving birth, the ladies wanted Candace and Ashley to make up.
The RHOP star Candiace felt that she and Ashley NEED to talk about it privately, and NOT on camera.
Meanwhile, Candiace got into the screaming-match following a tense moment with at the group dinner. The controversial 33-year-old admitted she didn't know if she had any friends in the group at the time.
Then, the focus turned to Monique Samuels, and things heated up. Candiace yelled for her former friend to "back the f**k off" of her.
Monique is upset with Candiace because she has a friendship with Charrisse, 55, who has been accused of allegedly spreading cheating rumors that Monique had an affair with her fitness trainer during her marriage.
The Housewives have had bad blood since. After several minutes of bickering, the RHOP cast dispersed and left the restaurant.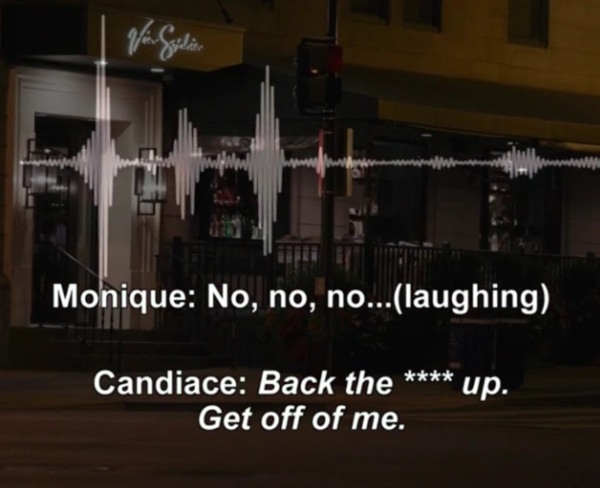 Shortly after that, the screen flashes to a title card that read:
Three minutes later… cameras wrap shooting. The audio keeps rolling.
Monique began the argument by telling Candiace:
I knew you were going to be bad to me.
Candiace fired back:
No, don't talk to me. No we are not friends.
As Monique repeatedly said "no," Candiace's anger began to escalate.
You then hear Candiace screaming:
Back the f**k up! Get off of me.
After Monique claimed she "had to," Candiace yelled: "No you did not!"