Chris Bassett FIRES Warning Shots At Gizelle Bryant!
Filming for the upcoming season of "Real Housewives of Potomac" is underway and it appears things are really heating up between Chris Bassett and his wife Candiace Dillard feuding with Gizelle Bryant…
Celebnreality247.com is hearing that a lot of rumors are spreading around and its alleged that Gizelle Bryant may have fallen out with Candiace Dillard.
Bloggers noticed that Candiace unfollowed Gizelle Bryant on Instagram. Not too long after, reports came out. after rumors surfaced that Gizelle accused Chris Bassett of being inappropriate with her.
She supposedly said that the alleged situation took place at last season's reunion. While the details didn't specify what the alleged inappropriate behavior was, some fans of the show believe that Chris may have been accused of hitting on Gizelle.
This isn't the first time Gizelle had made accusations about the husbands on the show. Last season, she was the one who brought up cheating rumors about Eddie Osefo. This didn't sit well with Wendy Osefo – she even tried to catch her in a lie during last seasons reunion. So she called Gizelle out for her actions. And since she believes Gizelle was being malicious. Meanwhile, Eddie and Wendy have denied there is any truth to the gossip.
Prior to the Eddie rumor, Gizelle also participated in spreading the rumors about Monique Samuels. After Monique fell out with a friend, rumors began circulating about her marriage. She was accused of having an affair with her personal trainer. It was even alleged that Chase Samuels wasn't Chris Samuels' biological child.
Monique denied that the rumors were true. And she strongly believed Gizelle discussed this with the other cast members to attack her marriage.
That being said, is Gizelle Bryant really behind these rumors and does she like to make others lives miserable?
Well, despite th past happenings with the other Potomac Housewives, Chris isn't happy about the accusations. Hours ago, he vented.
Chris has FIRED WARNING SHOTS and Gizelle should listen, but we all know she won't. Gizelle does what she wants, says what she wants, and never cares about the pain she causes to others. We love her, but she's a bit F'd up how she treats people.
Chris Bassett is fed up with Gizelle Bryant.
Gizelle Bryant is not new to being the center of controversy on "Real Housewives of Potomac."
It keeps her relevant and gives her a storyline so she remains on the cast. However, some of her costars past and present believe she has a knack for attacking marriages.
The ladies are all back and filming the upcoming season. So far, it's been confirmed that Karen Huger and Candiace Dillard have been clashing. But the biggest story so far is Gizelle and Candiace may have fallen out, just days ago.
It all stems from a rumor that Gizelle accused Chris Bassett of being inappropriate with her at last season's reunion.
Candiace has since unfollowed Gizelle on Instagram. And now Chris has spoken out on Twitter.
In a tweet, he wrote:
Y'all really not ready for what's about to go down. Call me what you want, but a liar I am not…and if that's the path you choose, I promise, you will be sorry.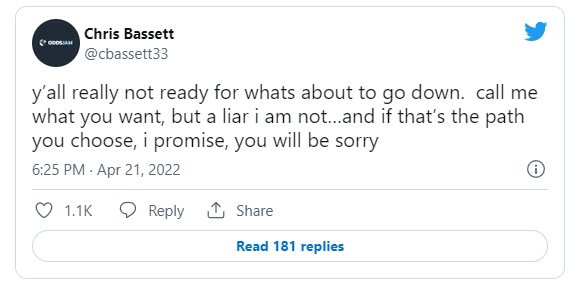 A fan told Chris to calm down and stop tweeting because his words can be used to hurt him and Candiace, but Chris didn't slow down.
Chris continued:
I understand the show…but what we NOT gonna do is LIE…and make up bullsh*t because you a sorry miserable person.
it's going down this sunday at Auggies Muscle Bar…the 2nd annual old town chili cook off. who's coming out?!?! check put this lineup of chefs….can't wait to try!! https://t.co/hzlcMNPZRE

— Chris Bassett (@cbassett33) April 19, 2022
Chris added:
Broke, live off my MIL, no job, whatever…those are lies for a TV show…this is my CHARACTER you are trying to attack and I will NOT sit down and say nothing.