Dana Wilkey Criticizes Kyle Richards For Showing Off $130K Birkin Bag!
Female rappers have been getting criticized for Birkins since Saweetie sent the wroncelebnmusic247.comg message to her fans. The rapper who is dating Quavo of Migos told her fans if your man can't buy you a Birkin then you need to find a new one. The message only teaches young females to be superficial and materialistic. So Cardi B weighed in questioning the Birkin Bag drama.
Well, Dana Wilkey is going after her former Real Housewives of Beverly Hills co-star Kyle Richards, whose expensive tastes seemingly exceed her own. And, yes, it deals with a Birkin Bag. Read on since Dana Wilkey is trashing Kyle Richards and her over-prised-Birkin bag…
View this post on Instagram
CelebnReality247.com reports that this past week, while filming for the show, Kyle sported a black polka-dot dress and a pretty costly Hermès Birkin bag, which was reported by the Style For Kyle Instagram.
The site captioned the photo, Kyle Richards, with her Hermes Birkin Bag saying:
@kylerichards18 carrying the @hermes Birkin 20 Faubourg Limited Edition ($130,000).
Of course, ex-Real Housewives of Beverly Hills Dana Wilkey then took to her own Instagram stories (via All About the Real Housewives) to share her thoughts on the matter, making a callback to the line that made her famous on the show.
She wrote:
Remember when @kylerichards18 made fun of my $25,000 glasses. Did you know… $130,000 Hermès bag ?[.]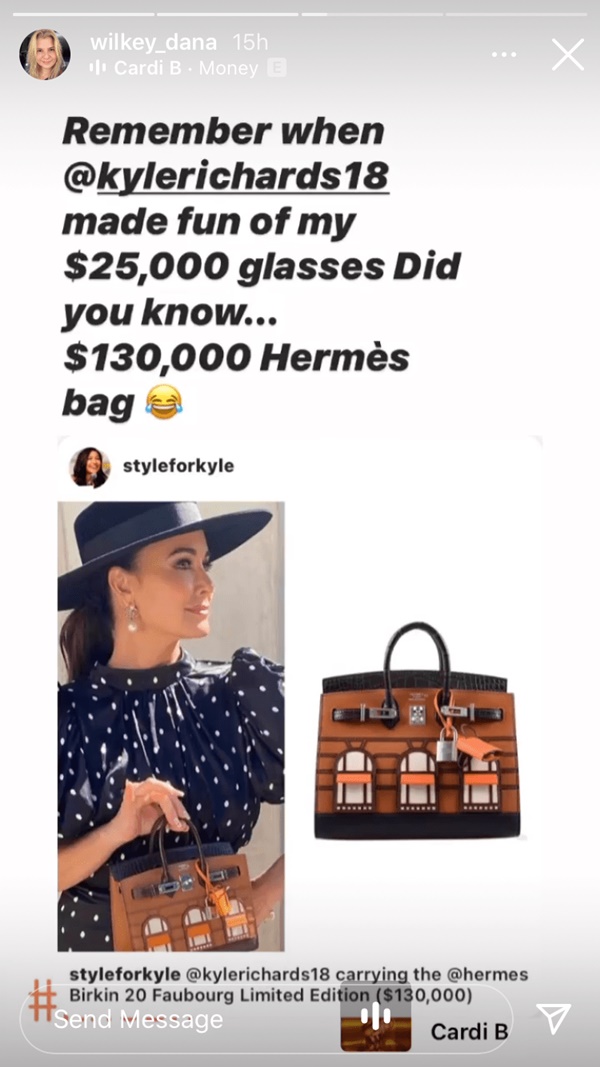 Dana Wilkey BLASTS Brandi Glanville!
The RHOBH alum didn't stop there with her criticism of the cast. She even went after former diamond holder Brandi Glanville on how she conducts herself.
Dana wrote:
Top of the morning to you #london @sundayrose.xo lol ? here is the answer to your question… what I really think about #brandiglanville #rhobh," Dana wrote in her caption. [A]nd I had to tell the truth even though you are a fan of hers xo ?[.]
Wilkey continued talking about a past "Twitter war" the two had where they were "really nasty" they were. So Brandi Glanville blocked her.
Dana went on to explain how she tried being friends with Brandi but found it difficult.
She stated:
Although she seems like a party girl which is fun, she has no depth or intellect, so it's really hard to have a real friendship with her. As far as a fake friend, she would always be trying to exploit your weaknesses and make you look like s–t on TV so…it was kind of like a lose-lose.
View this post on Instagram