We see why Teresa Giudice wants Danielle Staub on Real Housewives of New Jersey 7. Danielle Staub Weighs In On Teresa Giudice's Claims Jacqueline And Caroline Called The IRS On Her!!!
Flip and find out what Danielle Staub just said about Teresa Giudice…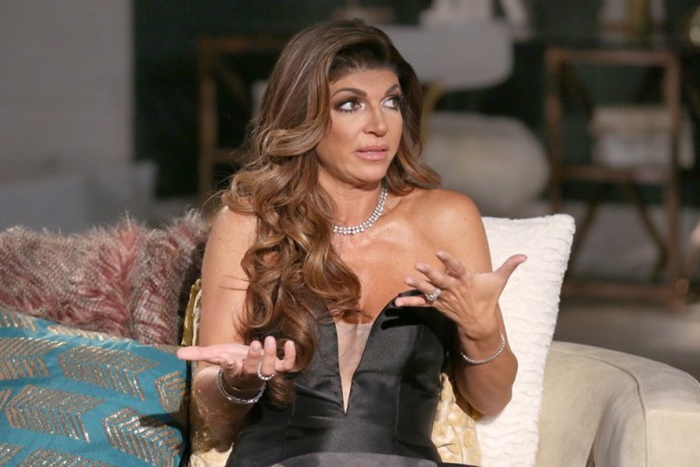 CelebNReality247.com watched the Real Housewives of New Jersey reunion Pt 1 Teresa Giudice had revelations!
Huh?
Teresa Giudice has been extra guarded with Jacqueline Laurita all season, which explains her actions all season. Teresa says that Jacqueline Laurita and Caroline Manzo set her up and turned her into the FEDS!
During Teresa and Jacqueline yelling match, she said:
"You set me up, in my gut, it was you or you and Caroline that set me up. You were behind everything; calling the government, everything."
While many fans found Teresa's claim to be outrageous, some like Danielle Staub saw truth is Teresa's allegations.
Danielle Staub tweeted:
"@Teresa_Giudice I believe you are on the right track about Jac and Caroline pay attention @andy @Bravotv #rhonj I know what they did to me."
AllAbouttrh adds:
In a Bravo poll, 64% of fans didn't believe that Jac and Caroline called the IRS on Teresa while 36% did believe it.

It's a known fact that someone close to the Giudice's turned them in and I wouldn't put anything past Jacqueline. However, I don't think Jacqueline was directly involved in reporting Teresa and Joe to the IRS, but I do believe she was behind some of the tabloid stories about them.
Watch:
Do you think Jacqueline and Caroline called the IRS on Teresa?