After filming Double Shot at Love, Vinny Guadagnino + Alysse Joyner were NOT allowed to be seen in public, but their time apart took a toll on their relationship.
While watching the Double Shot at Love reunion, fans of the show learned that Vinny Guadagnino and Alysse Joyner kept in touch via text for only three weeks. Alysse, who was unable to look at Vinny or sit close to him, said he just stopped texting. She was heartbroken and after he never responded she said "Actually, I'm all set!" Read on for more tea spilling…
CelebNReality247.com has the latest on Double Shot at Love Vinny Guadagnino who chose Alysse Joyner as his single shot at love, the only problem is that he failed to keep the realtionship going.
During the Double Shot at Love reunion Vinny Guadagnino gave his explanation why he was unable to see Alysse Joyner, but she was NOT buying it because she points out they could have texted each other.
Vinny explained on the reunion:
Unfortunately, Alysse and I weren't allowed to see each other publicly after filming for 5 months until the finale aired to not spoil the ending.
The Jersey Shore: Family Vacation star, 31, tweeted on Friday, June 28 that it was a "very weird situation to be put in after the finale."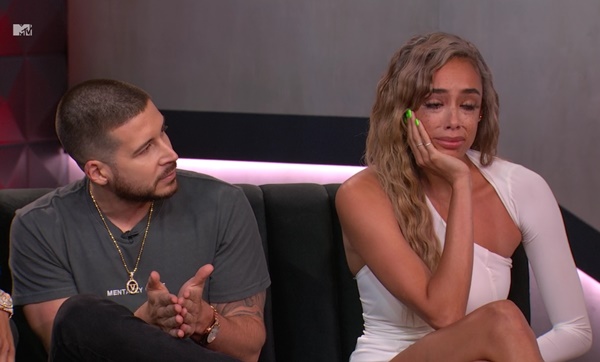 He confirmed after the Double Shot at Love reunion that he and Alysse are NOT together and just friends from a far.
Vinny revealed to his 3 million Twitter followers that he "struggled to keep [the relationship] alive through text" while spending time away from Alysse, 24.
He added:
Still think she's amazing, Wish her the best.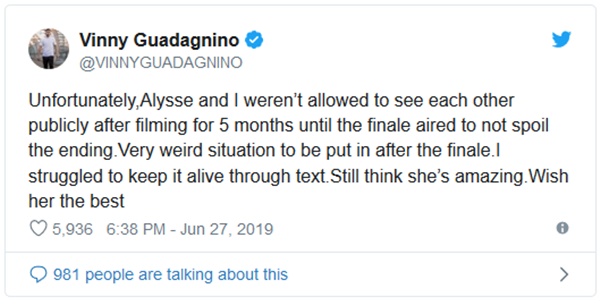 We find this to be disappointing about the series, because it failed.