Faith Evans ALLEGEDLY Cheating On Stevie J!
After all the women that Stevie J has cheated on, the one he thought was his soulmate is allegedly being accused of cheating on the reality TV star hunk. Read on for more about Faith Evans ALLEGEDLY Cheating…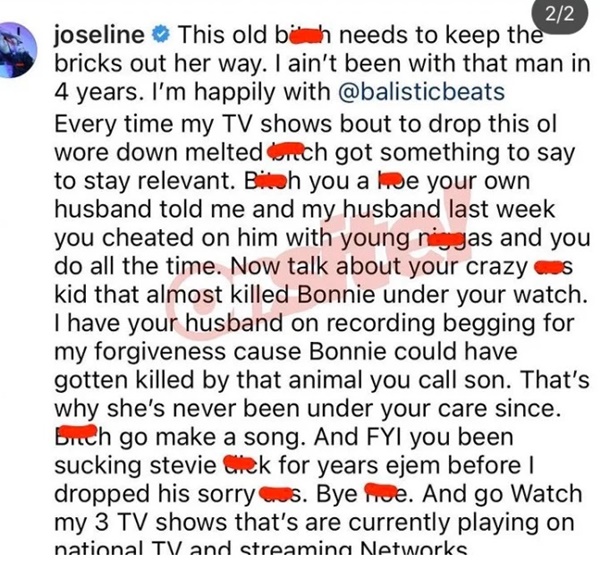 CelebnReality247.com reports that Faith Evans is allegedly cheating on her reality star husband Stevie J.
The tea spill about Faith Evans cheating comes from Stevie's ex Joseline Hernandez.
Joseline spilled the alleged tea about Faith and Stevie on IG yesterday.
Hernandez didn't like what Faith had to say about her baby daddy aka Beef Cake – so she decided to spill the tea on Faith and Stebbie's marriage.
The former Love and Hip Hop Atlanta alum decided to EXPOSE Faith Evans for Filth.
Joseline took to social media saying:
[Faith] cheated on [Stevie] with young n—as and you do all the time. You're crazy-ass kid almost killed Bonnie Bella under your watch. I have Stevie on recording begging me for forgiveness cause Bonnie could have gotten killed by that animal you call a son.

To put this in perspective, it appears Joseline was angry with Faith and NOT taking care of her daughter Bonnie Bella, who she shares with Stevie J.
Hernandez is claiming that "Faith] cheated on [Stevie] with young n*ggas and you do all the time!"
It appears Joseline is jealous of Faith. Is this true? until we see a photo of Faith kissing a younger man, this is a RUMOR!