Like we said Jen Harley and Ronnie Magro's relationship is completely toxic.
Ronnie and Jen keep getting back together, and they insist on trying to "make it work" for the sake of their infant daughter, Ariana. It's NOT WORKING!
They both need to realize that they are both at fault and NOT good for each other, but Jen Harley and Ronnie Magro continue to fight it out. Now Jen is saying that Ronnie is lying about the bruised face and she has proof. Read on…
CelebNReality247.com can't catch a break when it comes to the crazy antics of Jersey Shore Family Vacation star Ronnie Magro and his baby mama.
Jen Harley is now claiming that Ronnie Magro is making everything up and he's a liar?
If that is the case then why are there police reports of Jen demanding to get her baby from Ronnie after a night of drinking?
Why did Ronnie accuse her of leaving her 12-year-old son home alone while she went out to party with friends? He is only twelve and NEEDED a babysitter.
Jen Harley is CLAPPING BACK by calling the Jersey Shore Family Vacation Guido a LIAR!
Here is what Jen is claiming about Ronnie:
U want me to post something saying that I reacted out of anger and that it was a double-sided incident (sic) and we are working at making things better so we are never black in that situation again.
She continues:
Lmfao. Nahhhh so it looks like your so scared of me you had too.
When it comes to the car dragging, Jen says that Ronnie jumped on the car in a fit of rage.
Jen states:
Girl, he jumped on the car like a psycho when I drove away I didn't touch him how could I possibly do that to him he did it to himself.
Ronnie Magro has receipts, Jen does NOT!
Ronnie and Jen got into it all this week and he claimed that she was trying to extort him. The incident occurred after Jen Harley went out drinking all night with friends and neglected her 12-year-old son all night so that she could go out drinking.
Ronnie went on to accuse Jen of attempting to extort him saying:
Isn't it illegal to extort someone in America?!?? #BetterGoGetMe20k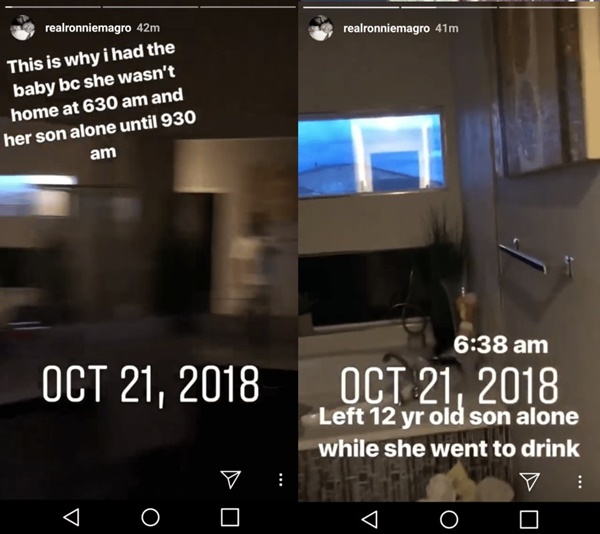 The drama continues since Ron has been cautioning fans to be wary, as Jen is lying about him with abandon.
At this point, we can't figure out who is lying and who is telling the truth, but our bet is Ronnie since his face is bruised up.
And where are Jen's Receipts?