If you watched Mob Wives, then you already know that Karen Gravano and Drita D'Avanzo parted ways and called it quits with their friendship.
Find out what Jenn Graziano is saying on the flip…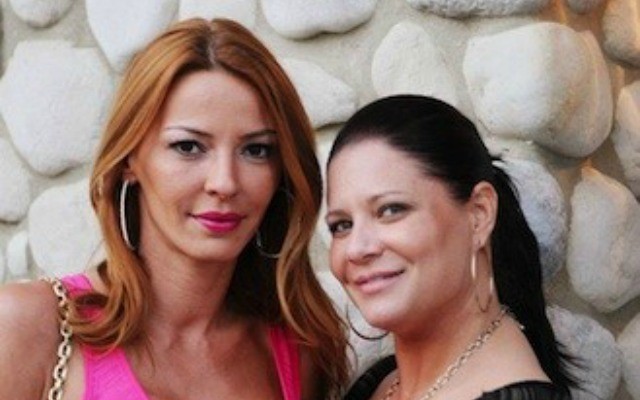 The big question after that is how would creator Jenn Graziano continue to maintain her friendships amidst the drama between Drita and Karen?
Despite Drita's big reveal that producers FORCED her away from Big Ang, Jenn speaks on how she has remained real-life friends throughout the years and now after the show has ended.
Jenn revealed in an interview with Vh1 how she has been able to maintain her friendship while wearing a hat as producer with all the drama that she and Drita have had on the show.
Jenn says:
"So after Karen brought Drita into the fold, I then became super close with Drita and when Karen moved to Arizona, she and I remained friends, but Drita was here every day. Me and Drita became super, super close. We used to take her daughter and my son, I have pictures of them when they were one years old of my son kissing her daughter's face. We used to go to the zoo together, everything. So me and Drita became close as well. So it became very difficult for me, when the two of them went into this all out war, so to speak."
She adds:
"You have to understand, I was both the producer while we're filming but then when we're not, I was both of their friends. When the cameras are off, I'm going to clubs and dinner with Drita. The next night I'm out with Karen and, she's telling me this, and Drita's telling me this and they're both trying to make me pick a side, not only as the producer but as the friend. [Over the years] I'm doing my absolute best to remain neutral on both levels. And at times, they have both accused me of taking one over the other. Drita swears I favor Karen, Karen swears I favor Drita. Even my sister Renee swears, for years [that] I favored Drita. Then it was Big Ang. It's just difficult, everyone wants to be the center of attention and everyone wants to be the star. I guess they all at one point or another looked at me as favoring one over the other.

When Karen and Drita had an all out war, there was a time where I just had to step back, and be like okay, Drita you're acting ridiculous, Karen you're acting ridiculous. [The show] took a huge toll on mine and Drita's friendship because I guess she got to a point where she felt because I was friends with Karen longer, we had more family history, whatever the reason may be, she felt that I chose Karen over her. So we had a huge falling out and then there were contract issues. I think all [the women of the cast] didn't understand the business of it and I think they all, especially Drita, felt that I could whip out the VH1 checkbook out of my back pocket and write them a check for whatever they wanted. When they didn't get what they wanted, they blamed me. Everyone was forgetting, that after season one, I'm the one that helped negotiate them a 50% increase, so everything, when it was good I was the best, when it was bad, I was the worst."
Jenn reveals where things are now with her friendship with Drita now that Mob Wives is over.
[rpi]
She says:
"Well, to be honest, a lot of things transpired over the years that I'm not happy about. I think she could have and should have handled things a lot differently, and better. I'm sure she thinks the same about me. I think on a professional level, obviously, we worked together throughout the entire life of the show, so professionally I'm able to maintain that but I don't think we have a friendship any longer."
In the wake of Big Ang death, do you feel like you have any insight into where the women stand?
Jenn adds:
"Well, I think too much has transpired between Karen and Drita to ever feel any type of bond for each other. [They can say,]okay, we can be in the same room to honor someone we both love, but once we leave that room, I'll never look at you. Karen and Natalie [Guercio] hated each other, but after Big Ang's funeral everyone went out to the Drunken Monkey to honor her and Karen and Natalie kissed each other and were like, "F–k it, Big Ang is gone…

…It's not even important what we fought about anymore. So Karen and Natalie definitely are in a better place. I think Carla, even though she and Drita are estranged, I think she's the type of person, maybe years from now to just get passed that. My sister Renee looks at it like, okay if we have a season seven I'll work with all of you. I don't gotta like you, but we can work together."
As for Karen and Drita, Graziano says:
"I think the only really heavy, irreparable relationship is Karen and Drita."
Thoughts?