Former Love and Hip Hop Atlanta star Joseline Hernandez has jumped on Azealia Banks coattails who told Nicki Minaj to stay in her lane.
Read on to see what Joseline Hernandez is saying about Nicki Minaj…
CelebNReality247.com has the latest from Joseline Hernandez who left the series last year after an explosive end between Mona Scott Young and Stevie J's Puerto Rican Princess.
In case you didn't know, Nicki Minaj took to social media dressed as a mermaid for her song "Bed." Well, it rubbed Azealia Banks the wrong way so she fired shots at the queen of the Barbz.
Enter, former Love and Hip Hop: Atlanta star Joseline Hernandez who chimed in saying that she agrees with Banks assessment of the Young Money rapper.
Hernandez weighed in saying:
I just to love the b**ch, but when you show your true colors, everyone in the music game told me they can't stand you or work with you, and I always took your side. But you a flaw b**ch Nikki. Don't say sh*t to me. You know what you did.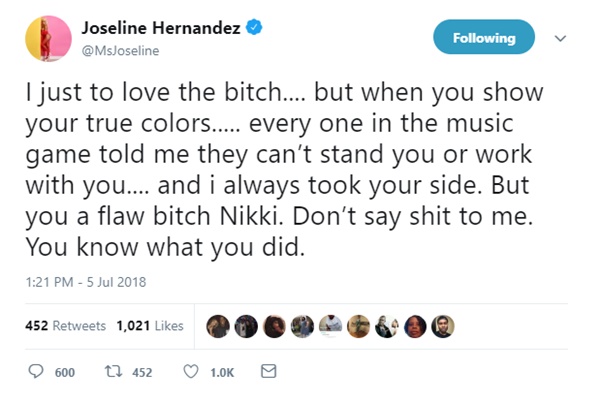 Azealia Banks went a step further to call Nicki Minaj washup, saying that Cardi B outshines her this year and that her reign in hip-hop is over.
Nicki's Barbz went on the attack saying:
Girl Stevie got Bonnie Bella on national tv with her toes hanging over her Sandals, sis you got bigger fish to fry.
Another Barb said:
I'm sorry who are you again? Nicki is selling and doing fine while you gang up and try and diss.. Welp, I wish you all the best babe you truly need it all.