But the news has Jenni 'JWoww' Farley husband Roger Mathews is now joking that he is having shock treatment to be a better husband fr Jenni. Read on…
CelebNReality247.com reports that Roger Mathews claims he's having electroshock therapy to be a "better husband" for his Jersey Shore wife Jenni 'JWoww' Farley.
It's no secret of the fact the 43-year-old businessman has upset his 'Jersey Shore' star/wife JWoww, but he's not giving up!
Roger Mathews took to Instagram in efforts to NOT get divorced from Jenni joking he's had a device called the "Dirtbag 9000" implanted in his back.
Mathews took to Instagram saying:
Technology is an amazing thing. Science has advanced to the point my where they make shock therapy specifically designed for men to become better husbands. I had this device installed with shock leads that go directly into my spine and my wife holds the controller and settings. It's called the "Dirtbag 9000".
He added:
It has voice recognition so if you question your wife it will light you up like a fucking Christmas tree. It has four settings. 1. You're a cunt 2. I should have stayed with my ex 3. I hope you die a slow painful death 4. Just for fun. (Which is the most powerful setting and is like being shot by a police taser) Humor has always been my way through life. Praying for a better tomorrow. Love you @jwoww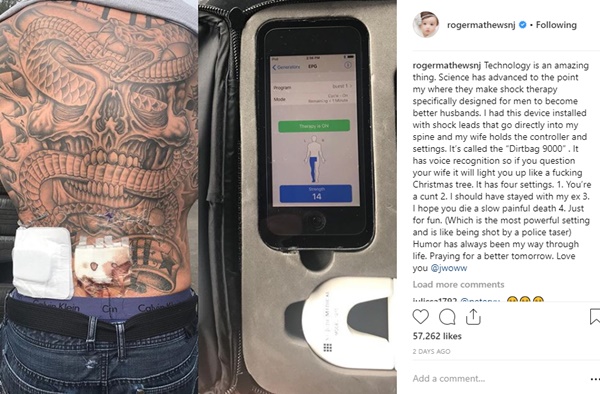 Roger – who has children Meilani, four, and two-year-old Greyson with Jenni – also poked fun at himself in his new Instagram biography.
Good father.Horrible husband.Worst lover ever.10foot tall and bulletproof. Figuring life out.
The businessman vowed last week to "win back" his wife Jenni back, and we hope he does. They are so cute together.
Roger stated:
I'm not done fighting. I am going to win my wife back. I'm going to win her affection back, I am going to win her love back. I have no intentions on being a single dad. We're in counseling so there is hope. It ain't over 'til the fat lady sings.
Keep up the good fight Roger.
He previously posted this on Instagram which was a sign things were on the rocks: