Yes, it's official, Oakland native R&B singer Keyshia Cole has officially become a cougar after she announced that she is dating a guy 14-years her younger.
In addition, to the younger man, she is now putting her sister Neffeteria Neffe Pugh on BLAST for going public with her apology instead of a real apology to her.
Read on to get the tea spilling on Keyshia Cole dating a 22-year-old young man…
CelebNReality247.com has the latest on Keyshia Cole dating 22-year-old rapper Niko Khale.
Last month, 36-year-old Keyshia Cole and Niko Khale went public with their relationship, but the announcement caused a public backlash.
Keyshia puts everything on the table for all to see. She calls out Neffe for going public instead of apologizing to her first.
Neffe went on social media to apologize by writing:
Dear @keyshiacole first let me start off by saying I love you with all my heart, I have been thinking of you for awhile now and I must say I miss my sister! Every since you came and got myself and my children from Sacramento things really haven't been the same between us, I can go on and on about why it's not but it will do no good to do that because our past will not predict our future.
Her sister goes on to beg for forgiveness:
Forgive me if I hurt you, forgive me if I didn't support you, forgive me if I let you down, forgive me if I embrassed you, forgive if I didn't do well in your eyes because you have wanted more for me period! I'm sorry for whatever I may have done for you to be distanced from me and my children… I don't know why you keep Dj from us but as a mother I'm sure you have your reasons…. Someone of a wise mind told me to humble myself and accept my actions and put my pride down.. I love and miss you more than you and I can't go another day without my sister knowing this, the God in me will not allow it… My heart has been suffering and I'm ready to be healed and this is apart of my healing… (Sam Elite Robert Latifah Ellis) forgive me as well… Now I can move on?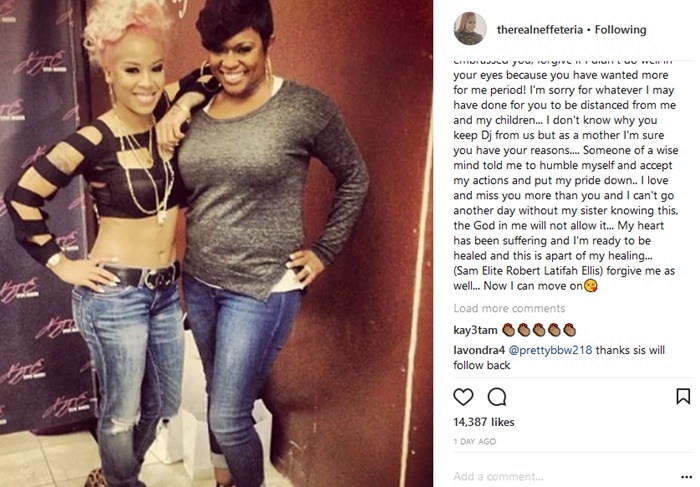 She took to social media in the tradition of keeping everything on the reality tip:
Here in Oakland, A lot of things going on right now, My father that I just met (Not too long ago) is in the hospital, and that's REALLY DIFFICULT to deal with right now, amongst other things. ALWAYS a GOOD feeling to have support and Love from the people close to you. Oh and Neffe I did receive your PUBLIC apology, and I understand why you went PUBLIC with it. And I thought I should RESPOND PUBLICLY, and our lives have been VERY PUBLICIZED, and I want you to kno, that I do love u back! ALWAYS WILL. And naw we haven't been close, and that's been going on for some time now, but I've BEEN forgiven you. I've forgiven mom and everyone I've felt, has failed me in my personal relationships???? only thing you need to do and worry about is, YOU AND THE BEAUTIFUL CHILDREN you've done an AMAZING JOB, raising.
As for her 22-year-old boyfriend Niko, Keyshia defends her relationship:
Now the reason I'm posting The pepper to my salt @nikokhale is because he's been such a sweetheart to me, and I know people have been very judgmental about our relationship but I gotta nurture what nurtures me.
Cole went on to show her support by posting this video of Niko doing a freestyle, but we ask are you feeling it?