If you didn't see LHH Hollywood 3 episode 3, no worries we have the tea to spill. Tonight we learn that Loose Lips Cause Marital Splits!!!
Flip and get the tea on LHH Hollywood 3 episode 3…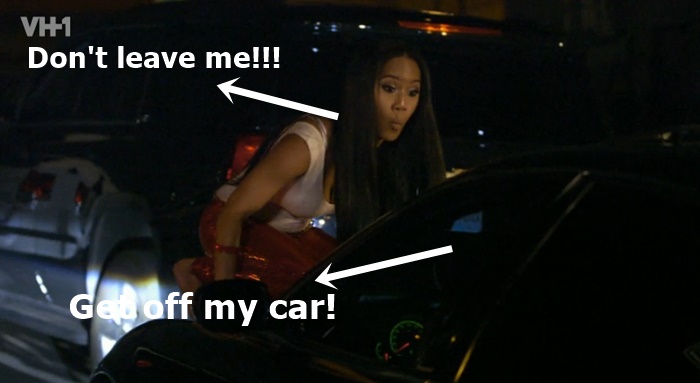 CelebNReality247.com has a recap of LHH Hollywood 3 episode 3 for you in 7 painless bullets points.
Here is the LHH Hollywood recap:
So tonight things pick up with Shanda and Willie sitting on the beach talking about why he is compelled to post penis picks to random women. She tells him this is not the first time he has done this. And if he continues to be dishonest by posting nude photos of himself, then maybe he shouldn't be married. Of course, Willie apologizes to his wife, but she tells him he will have to work to get back in her good graces.
Next up is Nikki telling Nia and Teairra Mari that she has closed the book on Fizz. Moniece is too much and Fizz needs to step it up as a man. Get his own place and move on. She also spills tea that she is dating two people, which we already know is Safaree and Rosa Acosta. Nia Riley and Teairra Mari think she is doing two dudes, they have no clue Nikki is dating a woman and a man.
Fizz is tired of Moniece, he feels that she is too attached again and wants nothing romantic between them. He wants Moniece to see the light that he only wants to be friends.
Across town Princess Love goes to meet Brandi Boyd, but she quickly learns that Brandi has been hiding a dirty little secret. Last week Max got $27K for an EP, so he wanted to start building on his sons living trust, since Brandi harped him to step up as a man. Well Brandi blew it. She stole the money from her son and used it to become 50/50 partners in a clothing store called Jhalae. The store has been online called Sojhalae.com, but now its a brick and mortar location in Inglewood.  Princess also learns that she is Brandi's alibi, since she has been lying to her husband Max. She is uncomfortable, but Brandi asks her to say nothing to Ray.
Later, Princess and Ray are talking and she tells him that she is going to meet with Moniece Slaughter to knock her name out her mouth. But first she will try to talk to her and if that doesn't work they she'll give her a beat down. Ray is unfazed by Moniece and her mouth. Love then tells Ray J that Brandi stole her sons money to invest it in her business dreams. Ray is shocked and pinky swears he won't say anything.
Later, Ray is with Max and Willie in the studio hinting to Max that he needs to do some investigating.
A couple of days go by and Max and Ray do a pop up while Brandi and Princess are shopping and checking out other stores in West Hollywood. Like 20 miles away from her store.
Over on the other side of the city Lyrica and A1 are filming a video and getting ready for her showcase. Lyrica is NOT only the highest paid LHHH star on the show, she is the most talented. She has penned hits for Beyonce and Jennifer Hudson, just to name a couple. But her dynamic power couple other half is producer A1, who has made hits for Ray J, Chris Brown and Drake. These two are steps away from being explosive, but their problems on LHHH deal with family. Lyrica mother-in-law is that guest that just won't leave. A1 Bentley is that mama's boy who doesn't have a backbone to give moms her walking papers. And Lyrica's mom is a former backup singer for the legendary Chaka Khan, Luther Vandross and Tina Turner. It's clear mom hasn't let go of her singing days, but is proud to see her daughter going for her dreams as a solo artist. Maybe Lyrica can get a deal like songwriters Ne-Yo and Keri Hilson. They both had so many hits the label gave them deals.
We meet back up with Princess and Moniece having a face to face meeting to squash the feud. Princess tells Moniece is a weak @ss beaoch attacking everyone and anyone. Moniece continues to bring up her mothering skills being questioned from season 1, she has to be delusional. Moniece claims that she is sorry, but Love is NOT buying any of it, and when she sees an opening she goes in for the beat down. Security block her, so Slaughter walks out.
Round out LHHH episode 3 is when Brandi invites Max to her grand opening party of the her store, Jhalae. It's at that moment when she comes clean and tells him she used their sons money. Max is PISSED, like he should be so he wants to leave. Brandi doesn't get it and chases after him screaming don't go. She sits on the car like a crazy side chick. Then she pleads with him to stay with her. None of it works and he speeds off, leaving her in tears…
Do you still need more?
Here what the cast has to say on Check Yo Self:
What do you think of LHH Hollywood tonight?
Until next week…