LHHATL Star Kiyomi Leslie CALLS Cheyenne Basic!
Scrapp DeLeon's sister Cheyenne, who got her news last week when Shooter confirmed that he was cheating on her with another woman. He claimed that he moved on because Cheyenne was wrking on hr career to get her real Estate license. Now, Shooter's girlfriend Kiyomi Leslie is calling Cheyenne basic. Read on…
Kiyomi and Erica sit down to discuss the altercation at the game night, and it turns out Kiyomi isn't as UNBOTHERED as she appeared to be… ?

Should she let her emotions show more? #LHHATL is ALL NEW TONIGHT at 8/7c! pic.twitter.com/j4bZlAVMty

— Love & Hip Hop (@loveandhiphop) April 27, 2020
CelebNReality247.com reports that on the most recent episode of "Love And Hip Hop Atlanta," Kiyomi Leslie had an explosive encounter with Scrapp's sister Cheyenne.
This stems from Shooter being up to his old tricks and why Sierra dumped him in the first place. Things haven't been easy for Sierra co-parenting with Shooter, but now he's on to the next with Kiyomi.
Of course, Kiyomi thinks she's the HBIC with Shooter, but that is all good until he finds a better replacement. Though, Kiyomi has been defending her open relationship with Shooter.
If that is the case, then why is she worried about Scrapp DeLeon's sister Cheyenne?
Well, Cheyenne was completely in the dark about Shooter's antics. She thought Shooter was an honest man, but she didn't know his past with Sierra. Maybe if she did she would have had fun a few nights and then moved on.
Now on the upcoming episode, she tells Erica Mena why Cheynne couldn't join them in the bedroom.
On the upcoming episode of "Love And Hip Hop Atlanta," Kiyomi Leslie will have a very interesting conversation with Erica Mena. Both women are exes of Bow Wow. So they discuss him and Kiyomi's controversial incident with the rapper.
Last week, Cheyenne learned that Shooter was cheating on her:
After they discuss the situation, Kiyomi's open relationship with Shooter is discussed.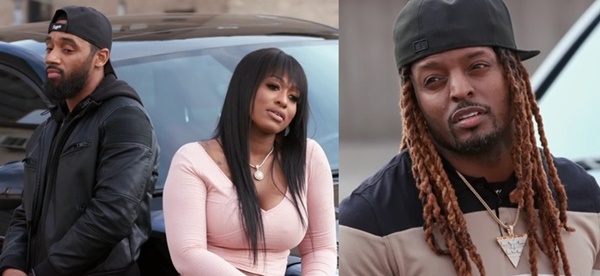 And she tells Erica why she wouldn't want Cheyenne to join them in the bedroom.
Kiyomi says:
He told me about her. He's like, 'We have sex from time to time.' Okay, if you wanna bring a girl in the bedroom, spice it up a little bit, I might be interested. But she's not my type. She's basic.
Why can't these women get some damn self respect and class?
Tonight Cheyenne and Shooter face off on Love & Hip Hop Atlanta: