Former Love & Hip Hop Atlanta star Tommie Lee is still in jail after getting rearrested for DUI Probation violation.
In case you didn't know Tommie Lee reached out to fans via social media to let them know they could reach out to her via the mail. Read on…
CelebNRealiy247.com reports back in October that Love & Hip Hop: Atlanta star Tommie Lee was arrested twice in 24 hours for child cruelty charges.
Things just got worse after news broke that Tommie Lee got physical with her daughter at her school and slammed her into a locker.
She was released on November 7 of this year, but before she could spread her wings she was arrested yet again for violating probation in her DUI case, according to TMZ. That particular violation was the reason she got arrested twice in the first place.
This is why Tommie Lee spent Thanksgiving behind bars and it appears that her next chance of getting free will come later this month but until then, she's currently sitting in Georgia's Cobb County Jail.
Since she's been locked up she requested fans to write to her: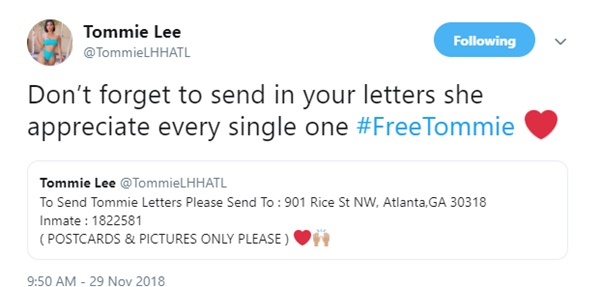 If you are loving her music, there is one shining star. See, before Tommie got put in the slammer, she dropped off a track with Blac Youngsta titled "Cheat On Me."
Luckily she has someone working overtime to promote the single on her Twitter account.
A tweet from her account reads:
They don't ever tell the full story.. just the part that makes you look bad. Nobody will ever feel yo pain. So do what you gotta do to get over that shit.
On Thursday, Dec. 6, her new boo Ian Connor seemingly suggested she would be home soon.
According to Connor, who posted the word "soon" suggested that Tommie Lee may be home before the Christmas holiday.
View this post on Instagram
We hope this is the last time Tommie gets locked up.