Love and Hip Hop Miami is getting ready to start season 2, but this year one of the stars has been fired, for "extreme Homophobia."
Read on to find out which Love and Hip Hop Miami star was FIRED…
CelebNReality247.com reports that Love and Hip Hop Miami star Prince, real name Christopher Michael Harty, will only be on a portion of #LHHM2.
What did Love and Hip Hop Miami star Prince Michael do to get the boot?
A reliable source has revealed that it is Prince Michael who attacked a gay man, an assistant to fellow cast mate Sydney Star.
It ot worse, the Love and Hip Hop Miami star went on social media bragging about the attack and calling the victim a "f–got".
In the age of the #MeToo movement, it was the perfect excuse for  VH1 producers to AXE the promoter, model/Miami socialite.
In season one of LHHM, the series chronicled the excesses of Papii Sham Poo's "party boy" lifestyle, which put a strain on his relationship with Liz, his girlfriend of three years.
Throughout the season he was involved in a violent brawl at the launch of his denim line. During season 1, he and Liz broke up, at the reunion, it was revealed that Prince was cheating on her. He was allegedly with another cast member, Gabby.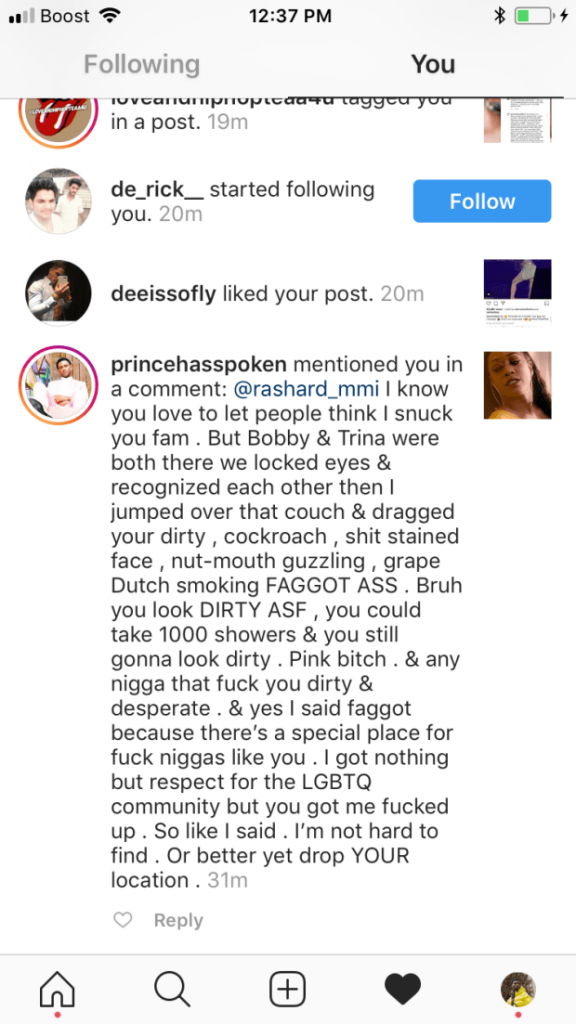 Prince CLAPPED BACK at the news that he was FIRED from the series saying:
Only thing FIREd is my fit. Lol. Check yourself. #LHHMIA
What we are hearing that Prince will be returning as a supporting cast member. He will only be on for a portion of season two.
Love and Hip Hop Miami begins airing January 2nd, 2019.