Love Island's Cashay and Cinco Are Dating!
So if you are like many of us who were sucked into this season of Love Island, then you already know one of the best love stories was Cashay and Cinco.
View this post on Instagram
Well, CelebnReality247.com have the latest tea on Cashay and what happened after her time on Love Island came to a close.
We were all upset that Charlie chose Alana, but in the end, it worked out best for everyone.
Although Love Island fan favorite Cashay "Cash" Proudfoot knew her time in the villa was coming to a close, she exited the Island without any regrets.
Cash told E!:
My heart was ready. My mind was ready.
The 25-year-old New Yorker found herself in a love triangle with Melvin "Cinco" Holland Jr. and Trina Njoroge, only for Cinco — who left a week earlier — to admit that it was always Cash.
Cinco exited after all the drama and fan votes put him in the bottom. Then her group decision with the girls on who to keep ended up being Will backfired in her face because Charlie felt slighted and their connection flatlined.
The catalyst came when three new women were introduced and Alana caught Charlie's eye. Right before Cashay's departure, she had a monumental breakdown admitting Cinco was the love of her life to Charlie who she chose.
View this post on Instagram
So what's up with Cashay "Cash" Proudfoot and fitness trainer Melvin "Cinco" Holland Jr.?
They are actively back together but Cash refuses to post photos of her man on her social. However, she is making sure everyone knows she has "Dibbs" on her muscled stud. Melvin is a hottie. #Yum #BlackGod #Dreamman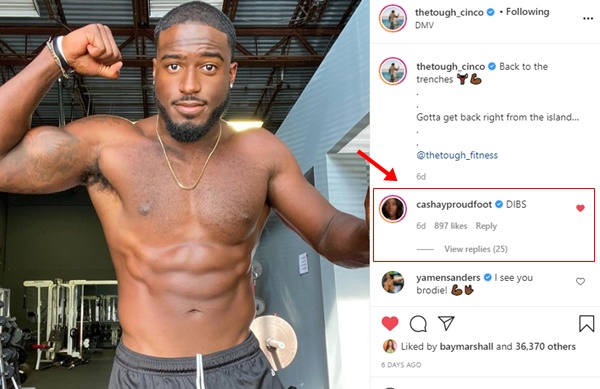 Come on do you blame Cash? Cinco is gorgeous, and he is a real down-to-earth guy, his only setback was admitting Cash was the one and NOT straying to realize he messed up.
View this post on Instagram
Are you ready for some awesome moments with Cinco and Cash after leaving Love Island? They had our vote to win if they lasted on the show, but they have our vote to be a power couple.