#BabyBentley is here ya'll! Love and Hip Hop Hollywood may be wrapped for another season, but new mommy and daddy Lyrica Anderson + A1 Bentley welcome their new baby into the world.
A few days ago, Lyrica Anderson + A1 Bentley welcomed their newest addition to the family, Ocean Zion Bentley. Read on to see #BabyBentley…
CelebNReality247.com reports Lyrica Anderson and A1 Bentley finally welcomed little #BabyBentley into the world this weekend!
The Love and Hip Hop Hollywood couple Lyrica Anderson + A1 Bentley welcomed#BabyBentley over the weekend. Proud mommy Lyrica took to Instagram to announce the happy news to the world.
Although to keep the identity of #BabyBentley hidden, she teased fans with a photo of her new baby with an emoji face.
In the photo, Lyrica gushed:
He's here. Follow my son Ocean Zion Bentley!!!  You have changed Mommy's Life. I can't stop smiling.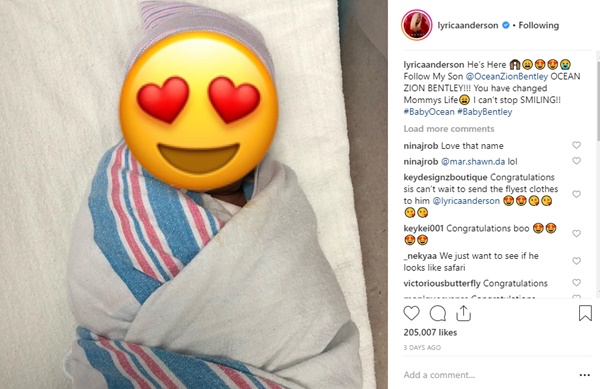 The last we saw of Lyrica and A1 they were renewing their vows of LHH Hollywood.
She followed the photo with a video post with Floyd A1 Bentley can be heard narrating in the video over-joyed and saying:
Taking my boy home, oh my gosh…oh my gosh!!!
The only thing is that fans of the couple questioned Lyrica holding the baby in the video because baby Ocean didn't move.
One fan said:
That baby ain't move one bit during the video. I'm confused sis?
Another questioned:
Can't see the baby…SMH What's the point? Ohh we got to wait until the show? Okay, I understand. LOL.
These two went through so much unnecessary drama all season it's just cool to see them finally pressing forward and starting a new chapter with their baby.
Congrats go out to Lyrica and A1. Welcome baby Ocean.