In case you haven't heard, Former LHHH Star Mally Mall PISSED with Vegas Police after they tweeted a pic of his dead exotic cat with laughing emojis!!!
That is foul, and we'd be PISSED OFF too, see what Mally Mall is saying…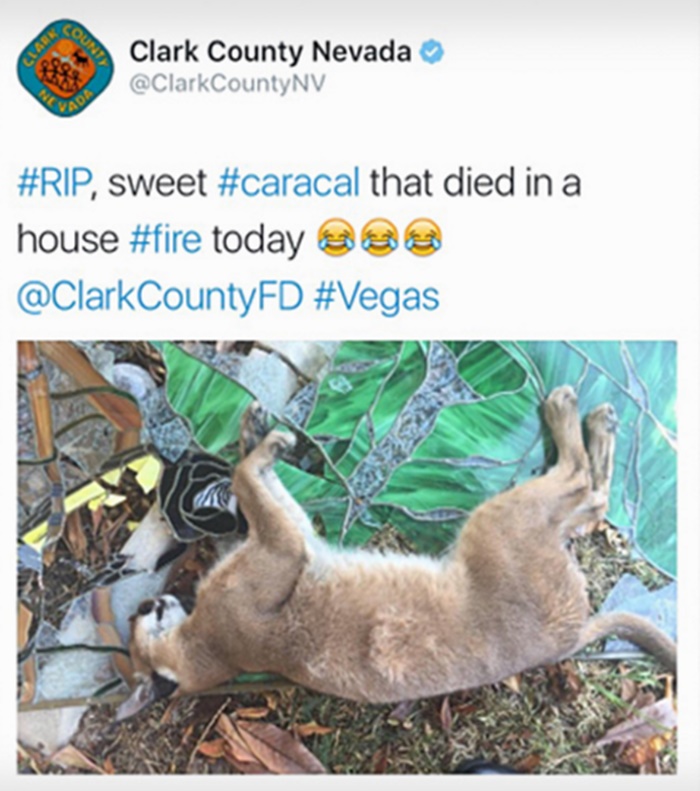 On Thursday, rapper/producer, Mally Mall lost his pet caracal, Nyla, in a house fire and afterwards Vegas police after they tweeted a pic of his dead exotic cat with laughing emojis, CelebNReality247.com has learned.
Mally to social media and posted a photo with a caption that reads:
"#nyla baby words can't describe what im feeling … Nothing really matters anymore all I can do is ???."
Meanwhile, TMZ reports:
Shortly after the fire, the Clark County official Twitter page posted a pic of the dead cat. But that's not all … the tweet included the "laughing so hard you cry" emoji.

The county deleted the tweet within minutes and apologized for using the "wrong emojis." It appears they intended to use the "crying" emoji.

Still, we're told Mally's furious and says it's totally insensitive and an invasion of his privacy. It's still unclear what started the blaze.
What kind of jerks would post a photo that is not only cruel but incentive to the person who lost their pet. Some people don't have kids and animals tend to replace children, so the loss for Mally Mall was extreme.
The LVPD was cruel to the feeling so Mall and this type of behavior NEEDS to end with police. This is why people are sick of cops, because these days they do what they want and lately have not been there for the public. Instead they kill our youth and mock our loses!
What kind of law is that? Where is the protection? Any maybe the academy should start screening their candidates better. Social media are the decline for everyone!
What would you do if police did that to you? Would you be upset if the LVPD made fun of your cat dying in a house fire?
Thoughts?