There is a new series coming to Logo for gay viewers who love the Bachelor but would rather see a gay version, and guess what, there is one now. Meet The Contestants of Finding Prince Charming!!!
Flip and Meet The Contestants of Finding Prince Charming…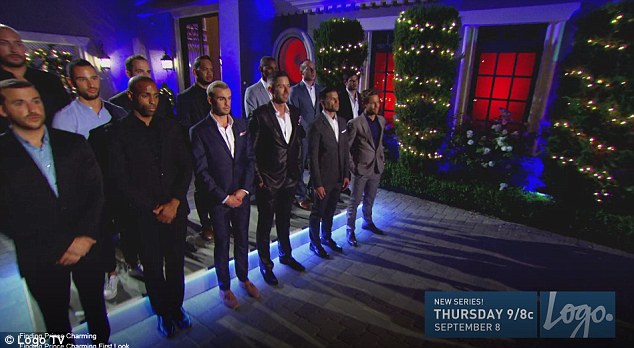 CelebNReality247.com has another new series we are adding to our shows called Finding Prince Charming on Logo that premieres on
Let us introduce you to the guys all trying to find their Prince on Finding Prince Charming, but first here is the trailer to see what it's all about. Although it seems like a sea of bottoms searching for their top. Finding Prince Charming looks interesting. Hopefully it won't be a cliche, but we're looking forward to the newest show on Logo.
Let us introduce you to the host of Finding Prince Charming:
Lance Bass
Beyond his fame as a member of the the successful group NSYNC, Bass has made himself a household name throughout the globe. With countless career highlights in music spanning the past 20 years, he has expanded his accomplishments into multiple entertainment mediums.
Brandon – 29
The 29-year-old behavioral healthcare administrator from Michigan describes himself as "ambitious, centered, powerful and faithful." Despite facing Christian conversion therapy as a teen, he embraced spirituality, studied spiritual leadership and gaining a licensed spiritual practitioner certification.
Brodney – 34
Brodney is a 34-year-old personal trainer who loves going out for a good time and a few laughs. This Atlanta native is sweet, active and gets told all the time it's hard to believe he's single. He describes himself as "a true Libra," someone who values balance in his life. It's been six years since his last relationship so Brodney is ready for love.
Chad – 32
The 32-year-old New York native is a real estate agent who gets around…the world. His hobbies, interests and passions are all over the map, from geography, culture, and animals. He describes himself as a total momma's boy and a bit clumsy, but he's always up for a big adventure.
Charlie – 26
Charlie is a quirky, creative 26-year-old working as a "manny". The Wisconsin native considers his biggest achievement packing up and moving to California on a whim, only to change careers eight months in. This total sweetheart values friends and the close relationship with his family. Having never had a real relationship before, he is looking for someone who values much of the same—a sense of humor, a mind for the future.
Danique – 30
The Atlanta-born LA transplant works as a business analyst, something that seems at odds with his whimsical, catch phrase-filled personality. He's multifaceted and loves his friends, who are a strong network for him. Danique has been single for 11 years now, but it doesn't stop him from leading an active dating life.
Dillon – 26
The 26-year-old fashion publicist and designer from New Orleans studied computer engineering and started a business by the age of 25. An Eagle Scout and a former ballet dancer, Dillon describes himself as cool and outgoing but down to Earth. He can be the life of the party, but loves settling down and getting cozy over an after-party. He's been single for a year and is ready to ditch the LA dating scene.
Eric – 35
The LA-Based hair stylist places a priority on family, friends, community, and mental and emotional health— all things that add up to Eric being a self-described "great lover." The 35-year-old's biggest accomplishment was coming back together with his family after a rocky coming out experience. Eric is a kindhearted dreamer and deep thinker with a strong sense of self-awareness.
Jasen – 36
This 36-year-old celebrity makeup artist from NYC is the life of the party. He has a great sense of humor but isn't afraid to say what's on his mind. He's bright, exuberant and completely comfortable with himself. Although he is a total flirt and loves dating apps.
Justin – 29
The 29-year-old model and project manager is hungry for life experience and to take this competition by storm. Justin describes himself as sarcastic, intelligent, confident and entertaining. He dreams of being able to switch careers with the change of an outfit—like Barbie. This Portland native is lively, joyful, fun, and wants to make sure everyone around him is having a good time.
Nick – 31
This 31-year-old college event planner from New Jersey lives his dream by mentoring hundreds of college students each day. Nick is a man of many passions, including becoming a husband and dad one day. Unfortunately, his dating life hasn't set him up well for that.
Paul – 34
Paul is a 34-year-old career man who has worked to create a successful company as the founder of a tanning salon brand. He's a Type A planner who loves social events and considers his friends his family. But this kind, driven businessman is always striving to prove his success, sometimes to a fault. He's picky.
Robby – 26
He's a 26-year-old on-air beauty expert who has worked with everyone from Britney Spears to Lana Del Rey. Robby tends to see the glass half full, even though it gets him in way over his head. He hopes to channel his success at work into the social realm, but has basically only been swiping left on dating apps—too many boys and not enough men! He's fun, flirty, articulate, charismatic, alluring and ready to have a good time.
Sam – 31
This 31-year-old Chicagoan started his own fitness company from the ground up. Sam is very close with his family—a no-brainer because, after all, he is Italian. This straightforward sweetie is a late bloomer after coming out at 22. He may be good with dating apps, but he's ready for his first real relationship.
The above guys will be competing for our suiter Puerto Rico native and interior designer, Robert Sepulveda Jr.:
Robert Sepulveda Jr.
Our Prince Charming is the owner of an award-winning interior design firm from Atlanta. The Puerto Rico native is an ambitious creative with an eye for detail and style. Throughout his life he has been committed to advancing the awareness of diversity, equality and LGBT rights through public art and community outreach.  Our very first Prince Charming introduces himself and answers the personal questions you're dying to know.
Who will Robert pick?
Well if you ask us we are going to tell you who is NOT going to make the cut. Robert seems to be more on the level and he's not looking for a hairstylist, someone too young, someone who is true to himself and not too young.
With that said here are our deductions from the interviews. No to Sam, he is too young, Robby is NOT a match, he's everything Robert doesn't want. Eric fell flat to us – NOT impressed. Chad, seems to fall hard too fast. But who we do think has a running chance is Brandon, Brodney, and Justin…Chad might be in there, but he's not going to make it to the end.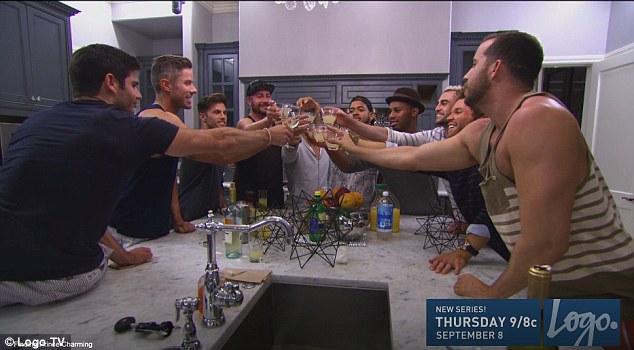 Who do we think Robert will pick?
We are going to guess it's either Brandon or Justin.
Who do you think? will you be watching Finding Prince Charming?