Meet The Mikes of Finding Magic Mike!
There is not much to say except wait until you see these mouthwatering men aka Mikes.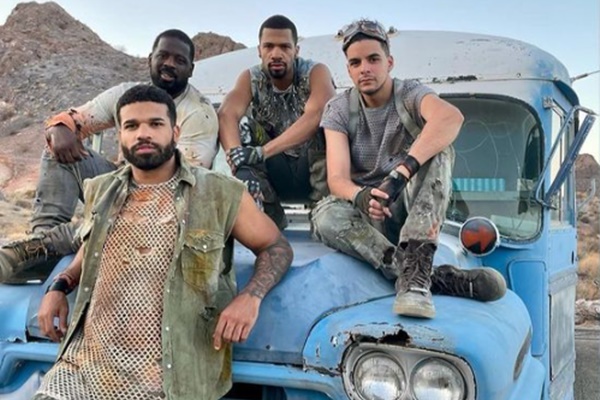 CelebnReality247.com is proud to introduce you to the top 10 Mikes from HBO Max news series from executive producer Channing Tatum director Steven Soderbergh's new competition series Finding Magic Mike.
Nate Bryan – Age: 32 – Taken
Location: I currently reside in Sacramento, California. Sactown!

Post-show projects: My time has been spent with friends and family, especially my mother since leaving the show. I ended up throwing her a successful surprise retirement party.
Ross Harris – Age 32 – Single
Location: I live in Fayetteville, Arkansas.
View this post on Instagram

Post-show projects: I returned to Arkansas and began pursuing my passion for home renovation and flipping houses. I have also been setting the wheels in motion towards starting my podcast that will focus on mental health, fitness, and spiritual growth.
Jiovanni Teheran-Jones – Age: 30 – Single
Location: I am living in Houston, Texas. H-Town HOLD IT DOWN!
Austin Arizpe – Age: 32 – Taken
Location: I'm based in Atlanta but travel to Los Angeles frequently for stunt work.
Kevin Klass – Age: 25 – Single
Location: I am currently living in San Diego, California.
Post-show projects: Since leaving the show, I have been rehabilitating my broken leg which gave me the opportunity to focus my energy on myself, close friends and family. I am continuing school at the University of San Diego this spring and will be going back to part-time work as a bouncer at Mavericks Beach Club in Pacific Beach on the weekends.
Johnny Dutch – Age: 32 – Single
Location: At the moment, I am based in Raleigh, North Carolina.
Post-show projects: I've been really creative lately with writing and filming narrative content.
Ricky Negron – Age: 28 – Taken
Location: Originally from Allentown, Pennsylvania, the least likely town to find male dancers, I have since relocated to Savannah, Georgia. I briefly lived in California before realizing that they already had too many skinny, and nerdy, Latinx lads trying to take my brand. I have a better chance of being the caramel-flavored Harry Potter in Georgia.
Michael Thantrong – Age: 42 – Taken
Location: Long Beach, California
Adonis Frank – Age: 34 – Single
Location: I'm born and raised in Brooklyn. I might change my location to see if I can do more in the media and film industry but for right now…. Baby, I'm a New Yorker!
Merlin Leon – Age: 26 – Single
Location: Denver, Colorado
Post-show projects: Since I left the show I've been taking care of my body to be even better than I was on the show. It's been pretty much eat, sleep, workout, repeat.
Finding Magic Mike is now streaming on HBO Max.