Like it started it ends, Mob Wives Reunion Ends With Explosive Fight between Drita D'Avanzo and Karen Gravano!!!
Get the Mob Wives recap from the reunion and finale of the hit Vh1 series on the flip…

Ok, so last night things we pretty mellow at first on the Mob Wives 6 Reunion as the ladies showed up for makeup while watching unseen footage from the series!!!
Renee Graziano was able to laugh at most of the drama during the Mob Wives Reunion, fights and betrayals that went down over the years. The only thing she asked her glam squad was, "was I always that angry?" 
[Watch the first 5 minutes of the reunion here]
The answer was "Yes".
Meanwhile, Karen, who was watching the same clips from Mob Wives got heated when she saw Drita talking to the crew that she didn't want to work with Karen because she always brings her father into the show and that she's NOT cool with it.
Carla stayed neutral on all of it, she just wanted to face Drita and call her out on why she was talking ish about season 5 when Carla popped up at Renee's Mob Candy party.
Next is Drita, who walked in saying that she and her friends did the show to make ends meet while their men were in jail. Things started off with great intentions back in 2009, but over the years too many things got dug up and friendships were ruined.
When they had Drita watch the tapes the first thing she saw was Karen talking shit and it was over. Drita was on beat down mode and all she was seeing was black!
Back at the set Ang comes in to talk with Renee and Karen about Mob Wives history: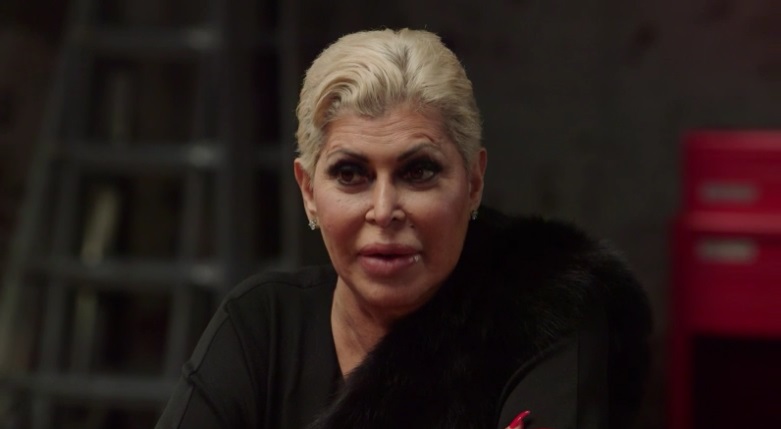 Over on set, Renee and Karen reminisced over the years saying how they all got involved and how things have changed over the years.
After the first segment was over, Big Ang made her final appearance on Mob Wives talking about the good times, how she was reluctant at first, but happy she did Mob Wives.
Ang was said to be very sick, according to Brittany, but still wanted to appear on the reunion for a few minutes. (She passed away two weeks later due to pneumonia and cancer).
After Ang said her goodbyes, the ladies continued to talk about the show and how a real mob bust went down during one of the seasons.
Meanwhile, Drita was going off at the production offices, saying that she was going to punch one of the producers in the face. (when Drita gets hot, we don't think she remembers what she says, because she is in a blackout of anger).
[Watch the ladies give their FINAL THOUGHTS about Mob Wives here]
Which leads us up to the face off between Drita and Karen on set. Drita walked in ready to kick ass, and in less than a second she was around the table and punching Karen. It was insane how mad she was over nothing. The whole fight was instigated by newbie Brittany Fogerty.
[rpi]
Fast forward to the fight. Tired of hearing Karen talk about her and her husband Lee behind her back, Drita immediately went into attack mode in the Mob Wives highlight from last night's reunion.
The distaste Karen and Drita had for one another only got worse over the season, but it was because of Brittany stirring the pot. The goal was to talk it out, but an agitated Drita didn't hesitate to throw hands on Karen as soon as she walked in, and it got so heated that Karen had to be removed from the set.
If you think about the whole season, most of the issues could have been avoided if Brittany kept her mouth shut on things she knew nothing about. This is the type of shit that gets you shot in the mafia, but this show is just about the wives, daughter and nieces who grew up in or was forced to deal with a mobster world because of their bloodline or married into it.
As an Italian, we loved Mob Wives, it has been a reality favorite for us since day one. We are sad to see it go, but if Karen Gravano, Drita or Renee gets a show we are watching. So give us more Jen!
After it was all said and done Drita was happy the show is finally over, because if you saw the reunion we can't even count how many time she said "I Quit" over the past six years.
In the episodes leading up to the end of the Mob Wives series, What a way to end a show, huh?