While NeNe Leakes was out at the Kentucky Derby having fun under the sun flirting with younger men, her Real Housewives of Atlanta star husband Gregg Leakes has been asking for prayers.
Gregg Leakes has been battling cancer for over a year now and his progress has been up and down, so a worried Gregg Leakes asks for prayers…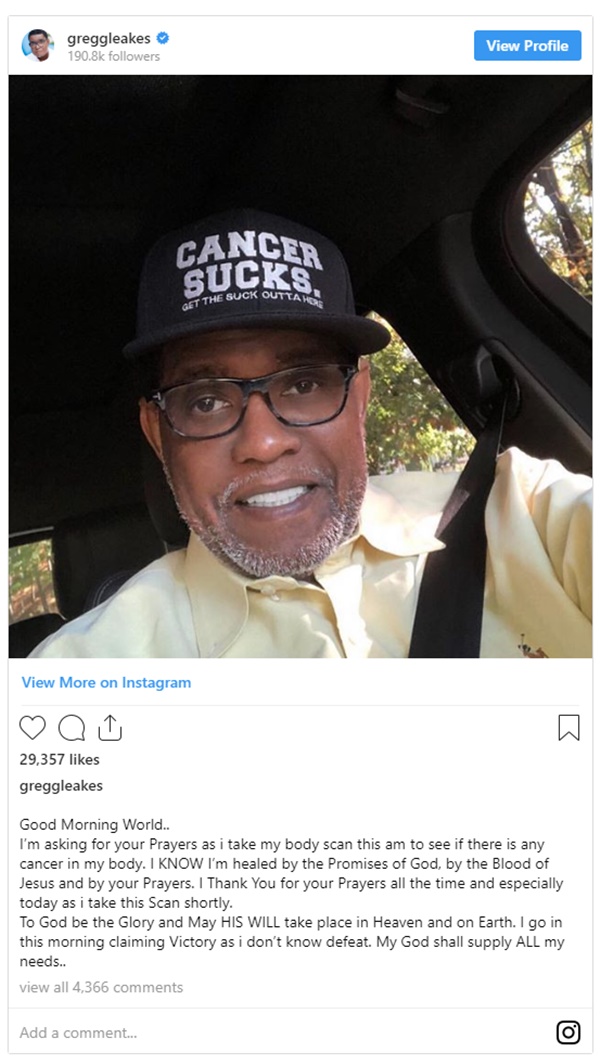 CelebNReality247.cm reports that Gregg Leakes recently appeared to be on an upswing on the Real Housewives of Atlanta reunion, but he recently took to social media to ask fans for prayers and provide an update as he heads to the hospital.
While sporting a "Cancer Sucks" baseball cap Gregg Leakes had to go meet with his doctor and get tested to make sure the cancer is gone for good.
Mr. Leakes battle with cancer took a major toll on his marriage and his wife NeNe Leakes had a hard time dealing with it since she was no longer the center of attention in their household.
Sorry, we are calling it as we see it. NeNe complained all season (year) that Gregg was rude, mean and insensitive. She forgets that he was just scared and lashed out at her because he was afraid of dying. He wasn't ready to leave his life just yet, but NeNe found a way to make it about her. Cancer is tough on everyone when someone in your family has it. Everyone goes through the fear of "what if he dies?" So, unless you've dealt with a situation like that, you truly will never understand the feelings. It's horrific, tough, and it tests the family bond and how strong a relationship truly is.
NeNe proved she strong, but still ready to jump ship if needed. That is NOT a good look, and lashing out at Cynthia for being there was out of line. NeNe needs to apologize. As for Marlo, she has been there too, but she NEEDS to get out of NeNe's ear.
In early morning Instagram post, Gregg Leakes asked for prayers as he heads to the doctor for a scan to determine if there is still any cancer left in his body (above).
Gregg writes:
Good Morning World…I'm asking for your Prayers as I take my body scan this am to see if there is any cancer in my body. I KNOW I'm healed by the Promises of God, by the Blood of Jesus and by your Prayers. I Thank You for your Prayers all the time and especially today as I take this Scan shortly. To God be the Glory and May HIS WILL take place in Heaven and on Earth. I go in this morning claiming Victory as I don't know defeat. My God shall supply ALL my needs.
Later, in a second post, Gregg seemed more confident and relieved saying:
He wrote:
Almost time to shout Victory…God is a Healer & I Believe…