This time Princess Love is doubling down and putting ALL their business out in the street! And you can rest assured that the Norwood family is once again NOT happy with Princess putting the families dirty laundry out to dry. Read on for more on Princess Love BASHING Ray J…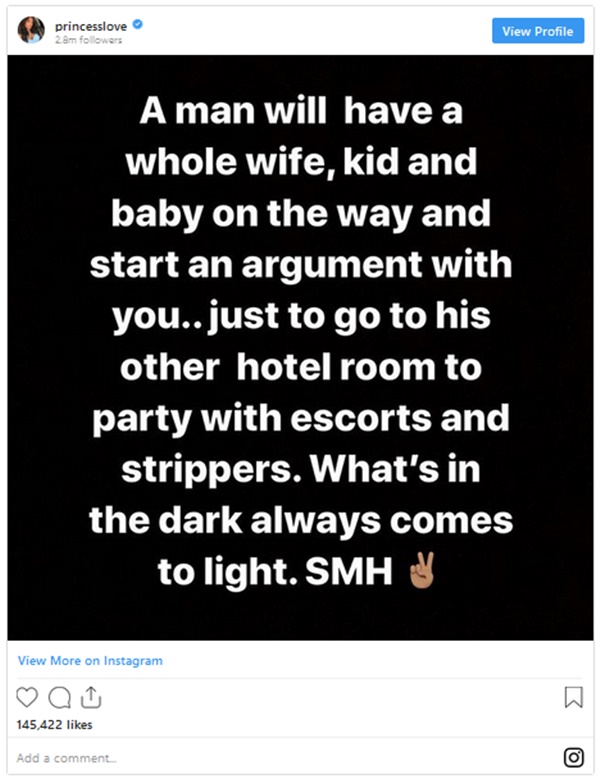 CelebNReality247.com has the latest tea spill from Princess Love Norwood who is now claiming that Ray J "abandoned" her and their daughter, while the family was in Las Vegas because he was hanging with escorts.
Really Princess Love?
Wow, she will stop at nothing to get Love & Hip Hop Hollywood fans to be on her side. This is so petty and utterly ridiculous. #SMH
Princess, who is 8 months pregnant, is explaining to their fans WHY her reality star hubby left her and their child.
She said recently that Ray J left his family overnight so he could "party with strippers and escorts."
We don't know how true any of that is, because Ray J has certainly said nothing about "strippers and escorts." This was a problem back when they were first dating and it seems Princess still has major trust issues with her husband. Either this is her fear or just her insecurity. Does she forget that he married her?
Anyways, Love & Hip Hop Hollywood fans have had mixed feelings in regards to her latest smear campaign against Ray J.
Some fans on her page are supportive:
Prayers to you and yours. Peace and blessings and love and light. Sending positive energy to you a d your family
You have every right to vent and tell the truth of the situation. Too many times are we as women pressured into staying silent which only benefits the man that victimized us. Speak up and speak loud. Love you, mama!
love you! You are strong! We are tired of these married men not acting right. Judge if you want too!!! say married people need to keep their business to their selves, but these young girls need to know. Shyt is hard, heartbreaking and mentally draining. ??
While others just want her to #STFUSTFD because some believe that social media is not the platform for the airing of dirty laundry:
Vent to your friends not to us honey
We feel u. Seriously. But don't let social media be your outlet. Pray and vent to God.
Social media is not the place for marriage disputes unless you're ready for a divorce!!!
We already know Ray J is OVER IT!
What do you think about Princess Love BASHING Ray J?