Stevie J better think twice before trying to start some Love and Hip Hop Atlanta rumors about The Game because he's NOT hearing it, so Rapper Game Shuts Stevie J BS Down!!!
Did Stevie really think that Joseline was smashing West Coast Rapper Game? Find out the tea on the flip…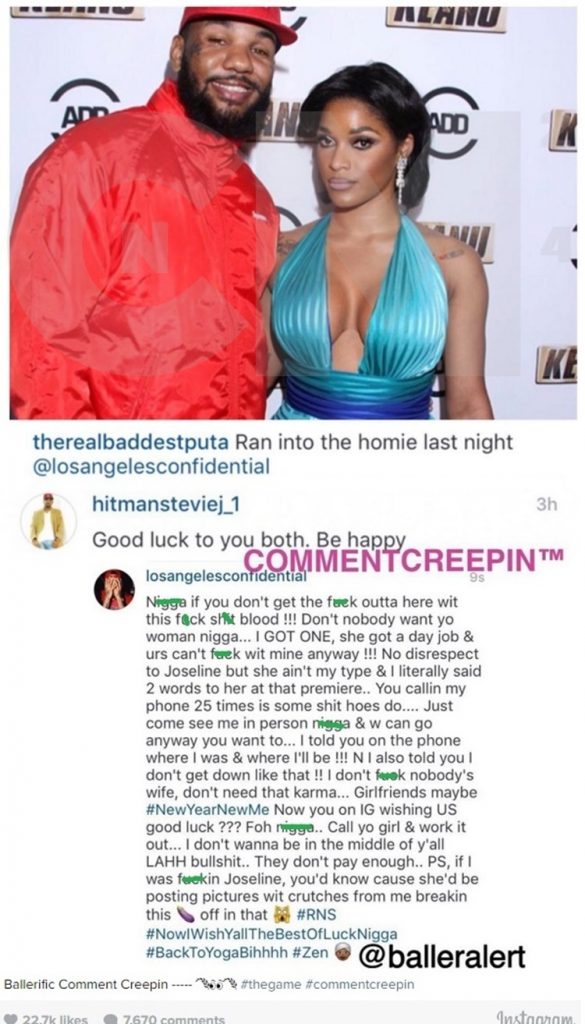 It may have come off like Joseline Hernandez tried to get some Game eggplant, but rapper Game is NOT hearing the BS and is refusing to be dragged into the confusion.
Stevie J and Joseline's relationship are so on and off that it's hard to keep up with their status from week to week.
Unfortunately for rapper The Game, he's now being dragged into the confusion.
Apparently Stevie felt some kind of way when he saw a recent picture of Joseline posing with The Game on the red carpet at an event.  When he got word of the photo, he commented on The Game's post and wished them the best. Then, when Stevie suggested Game should do Joseline,  Game was instantly disrespected considering he's dating someone else and doesn't want to get linked to any rumors that could jeopardise his relationship.
[rpi]
Rapper Game quickly fired back and shut Stevie J and his LHHATL BS down like yesterdays news:
"N—a if you don't get the fuck outta here wit this fuck shit blood!"
The Game continued to let Stevie J have it on Instagram saying bluntly:
"Don't nobody want yo woman ni**a. I got one, she got a day job and yours can't f*ck wit mine anyway! No disrespect to Joseline, but she ain't my type and I literally said two words to her at that premiere. You callin' my phone 25 times is some shit hoes do… Just come see me in person n—a and [we] can go anyway you want to… I told you on the phone where I was and where I'll be! And I also told you I don't get down like that! I don't fuck nobody's wife, don't need that karma."
Photo: Instagram/Baller Alert