On Christmas Day, Remy Ma and her husband Papoose took to social media to give fans a first look at their baby, The Golden Child.
Read on to see Remy Ma and Papoose Golden Child…
CelebNReality247.com reports that Remy Ma is finally home for the holidays after a health scare a few days after giving birth.
Over the weekend, the rapper and Love & Hip Hop NY star Remy Ma took to social media to tell her fans that she was doing better and back at home.
Happy husband and daddy, Papoose shared a photo of himself getting ready to dig into Christmas dinner while chilling in the baby's room.
Daddy Pap said:
Happy holidays, from my family to yours. #blacklove #thegoldenchild ?? #happyholidays #happykwanzaa
Meanwhile, Remy took to social media as well to share a photo of her new baby.
She praised her husband who has stood by her side through thick and thin, good times and bad. Papoose is a dream man for all women. Remy is truly blessed to have a man like him in her life.
Remy said while posting a photo holding the Golden Child:
Best Christmas present ever!!!?? Thank you @papoosepapoose
Papi Pap weighs in adding:
All hail THE GOLDEN CHILD!!!!!!!!!!!!!!!!!!!!! Wowwwwwww I still can't believe it. #blessed ??
The happy 40-year-old rapper added:
#thegoldenchild #blacklove #goldenchildchallenge @remyma Can't thank u enough!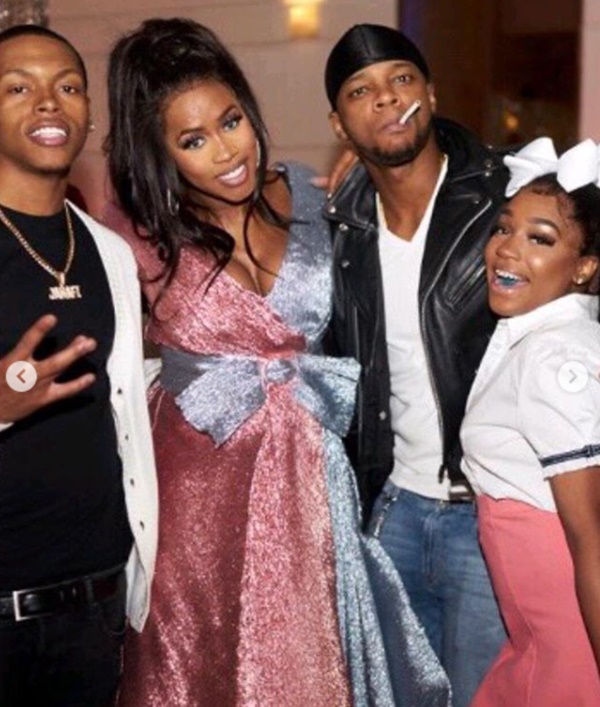 In November, Remy shared this photo of her kids (big bro and Big sis to their new bundle of love):
Remy said:
My baby forever! My "Punkin" My 1st born. My son. I had him when I was so young & thought I knew it all??????We basically grew up together. Then there's my babygirl? I didn't birth her but you would never know that if you looked at the bond we've managed to create over the past 14 years; it wasn't always easy but today she's one of my closest friends???? I love you both soooo much- Always @PapoosePapoose , we didn't do too bad ??
We are just so happy for Remy and Papoose since they truly went through a lot to have this baby. We are proud of both of them.
They are such a great couple, so positive and it's nice to see a couple sharing their love and putting smiles on peoples faces.
All hail to the Mackies!