Welcome back to the A where the Peach is everything and Real Housewives of Atlanta RULES the winter months on Bravo. RHOATL Season 9 kicks off with a bang with Moore Manor vs Chateau Sheree!!!
Flip and get the tea on what went down on the season premiere of RHOATL season 9….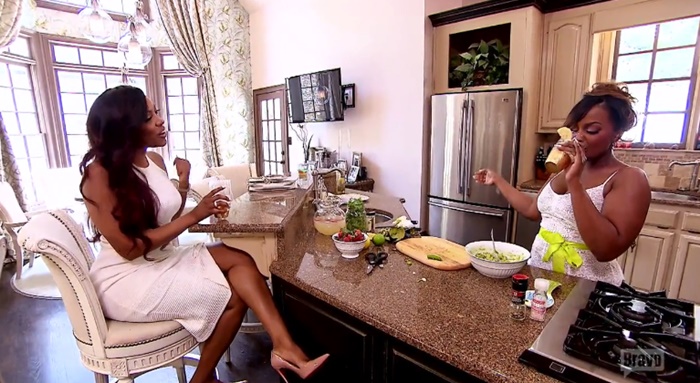 CelebNReality247.com has your recap of tonight episode and we have to say it was very SHADY!
It kicks off with Kandi and Todd and their new baby Ace getting a potty lesson just months after being born. Yes, most people and doctors say to wait 18 months before potty training, but this is not Kandi's first baby. She did this with her daughter and by the time she was 2, she knew how to potty. Kandi knows what she is doing, so congrats Kandi, Todd and Ace – that's because he went pee pee!
Then Porcha visits Phaedra, (above) who is 30 days away of learning when her divorce will be final. Of course Porcha is eager to get Phaedra back in the dating game, since she says "I'm for hard love…wood hard!" Alright Phae Phae. Someone is at her door with horse and carriage holding an invite. Phaedra reads the shady message which says to bring a hot plus one NOT a THOT, so she invites Porsha.
Next is Sheree hoping everyone will gag at her 10,000 sq ft mansion. It's nice, overdone and yes empty. It may be done, but still 4 years in the making. Sheree meets with her interior designer. Sherée is putting the finishing touches on her mansion because it will be her legacy. People keep using the word "legacy" in this episode and I don't think they know what it means.
Across town Cynthia Bailey goes to visit her attorney friend to get some advice about starting her divorce proceedings. She hasn't been living with Peter for five months and she's ready to move on. She doesn't want alimony; she wants the house and it's in her name. She's got to bring in her prenup and maybe Peter for another meeting with the attorney. The scene ends with Cynthia crying with her head down on the steering wheel.
Later we have a moment with Porsha at her anger management session. She opens up about being bullied in school because she had big eyes and lips. Everyone made fun of her, so she says that is why she felt she needed to be strong. He doctor tells her she needs to think about her legacy. Yes the word of the night is "Legacy."
Back to Bailey residence we find Cynthia using Facetime to call her soon to be ex husband, Peter. It's an awkward moment as she tells him that she needs to bring the prenup to the attorney. He replies to her saying that he loves her and NEVER wanted a divorce. It seems to mimic Phaedra and Apollo not wanting a divorce, except Peter didn't do a crime. And for the record he NEVER cheated, there are no receipts of the incident and no woman. Peter says he has a new woman in his life, his business. It's sad to see these two splitting.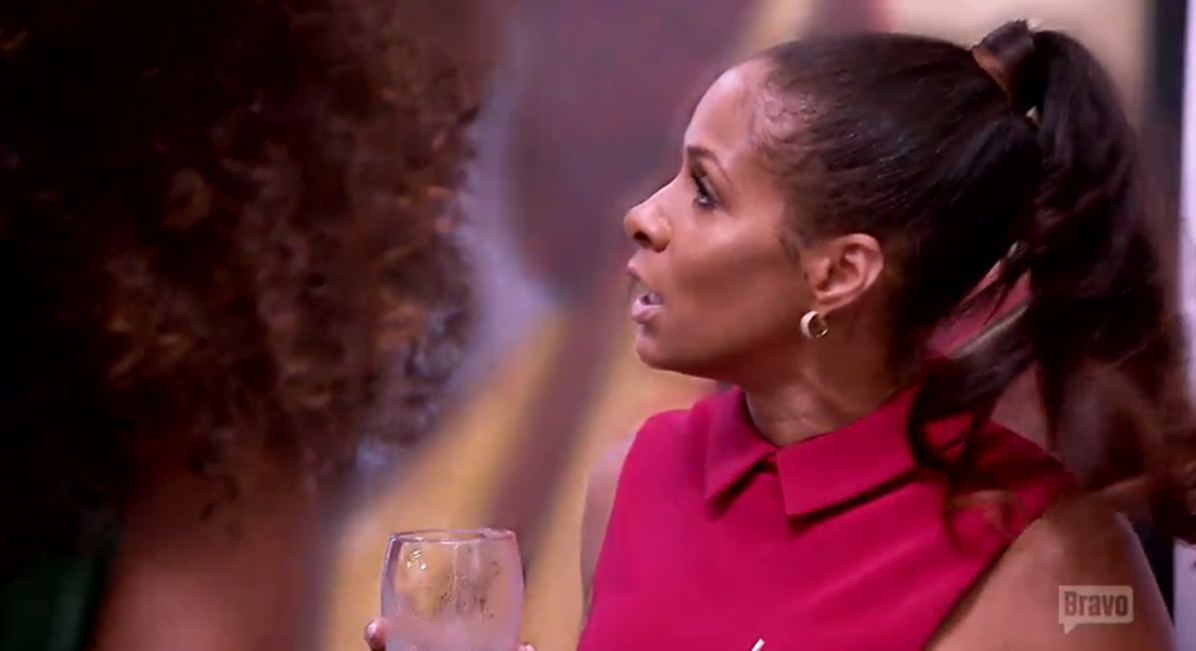 The premiere of RHOATL 9 ends with Kenya Moore's house-warming party that should have been pushed back another month. The house is NOT ready. There are tons of things undone, so it's the perfect time for Sheree to make a few SHADY remarks. But Kenya throws the first daggar saying, "I can't image what 5 years was like?" Sheree FIRES BACK, so let the SHADY WARS begin!
More guests arrive and things get TURNT up a notch when Phaedra walks in with her plus one, Porsha. She is doing her hellos, while Sheree is happily awaiting for the shhh to hit the fan. Then walks in Kenya, and her face is instantly cracked…it's just one of those moments we would have paid to be at that party. The look on Kenya's face is priceless. This is where it ends until next week…
Thoughts on this episode of RHOATL?