Stevie J Post Mouth-Watering Body Pic But Fans Clown His Legs!
The last time we saw Stevie J he was receiving felatio by an unknown woman during an interview.
You can't say Love & Hip Hop Atlanta alum Stevie J is NOT sexy…he has a hot body and major charisma and fans are drooling over his motivational Monday photo…
CelebnReality247.com reports that fans in the comments were gushing over Stevie's big arms and muscular chest. His chest is totally kissable and suckable, but when you look at his body in whole it looks off.
Stevie Jordan, 50, has a great body  – His arms are like torpedoes and his abs are rock solid. Who wouldn't want some of this beef cake?
He just needs to work on his calves.
Fans immediately have gone in on his legs saying that it appears that forgot to work on the lower half of his body.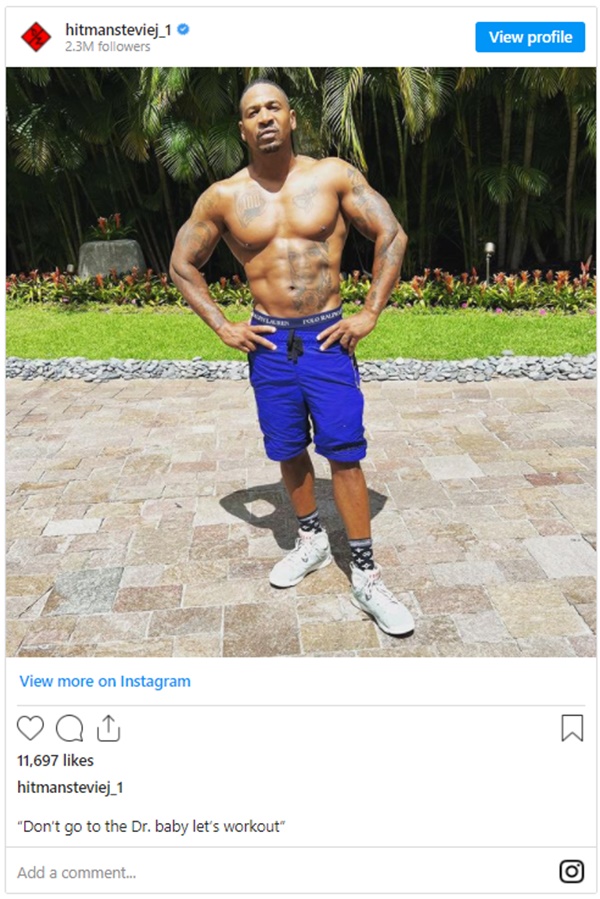 Stevie J fans posted in the comment section in which he has now cleaned:
"Ok, Johnny Bravo."
"Giving very much Larry the Lobster from SpongeBob ? I'm sorry."
"Why he so little big?"
"Did he forget to do leg days too?"
"His legs are listening to 'Unappreciated' by Cherish on repeat."
Most fans encouraged the reality star to stop skipping leg day at the gym. While others began comparing Stevie to their favorite foods and video game characters, including one who said, "He shaped like an Upside Down Dorito."
"He built like Wii character," said one person, while another added, "It's giving Crash bandicoot.
A fourth joked, "He shaped like wisdom teeth."
After criticizing his legs they then turned to his public divorce from Faith Evans. Fans pointed out Stevie J's massive stomach tattoo of his soon-to-be ex-wife. One person said, "It's the Faith tattoo for me."
Encourage happiness & love. @faithevans #TheJordans pic.twitter.com/rWtncKPbQT

— Stevie J. (@hitmansteviej) September 16, 2018
Stevie J and Evans are currently going through divorce proceedings after the veteran producer filed in November 2021.