Fans of Black Ink Crew haven't been to easy with the sucker moves Teddy Ruks pulled on Alex at Young Bae's Wedding rehearsal dinner.
Now, Teddy is feeling like the tool everyone has been saying since he jumped Alex. Read on to see what Teddy is doing about it…
CelebNReality247.com reports that Teddy Ruks took to social media following the airing of last weeks violent episode.
Many fans were disgusted with the way Teddy and Cease acted on the most recent episode of Black Ink Crew.
That sad thing is that before the uncalled for violence went down, Cease already said that he would lay hands on Alex if he didn't get Donna in check.
The reason why Alex was quite is that he swore that he would steer clear of Cease and Donna's beef since he has respect for both. That wasn't good enough for Cease and Teddy so they jumped him.
After the episode aired, both were dragged something serious on social media.
So Teddy ended up apologizing after a follower named @YoungPhillyMan weighed in on him.
Ted said in caps yelling then deleting the post:
I WAS WRONG AND I APOLOGIZE TO ALEX! You're 100% correct. We don't realize the reach of this show, but you made me understand and I will do better for us.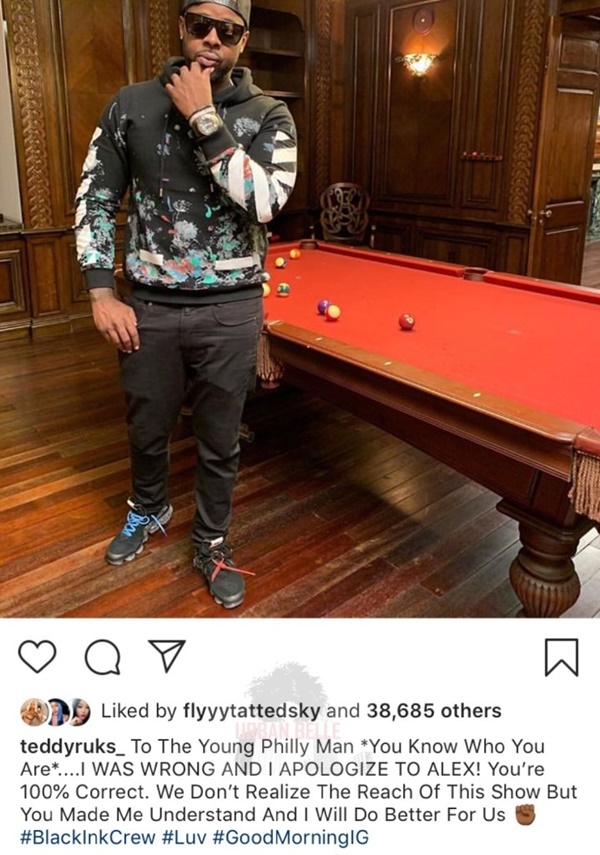 A lot of fans have complained about the show's current direction, with some even commenting about it on Dutchess' Instagram page.